Good morning.

Saturday in Whitewater will be mostly cloudy with a high of seventy-five.  Sunrise is 5:27 AM and sunset 8:15 PM, for 14h 48m 16s of daytime.  The moon is a waxing crescent with 22.3% of its visible disk illuminated.
Today is the five hundred fifty-fifth day.
Days since Trump's election, with 11.9.16 as the first day.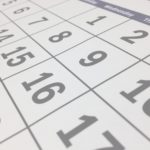 On this day in 1780, New England experiences a mysterious darkness:
New England's Dark Day refers to an event that occurred on May 19, 1780, when an unusual darkening of the day sky was observed over the New England states and parts of Canada.[1] The primary cause of the event is believed to have been a combination of smoke from forest fires,[2] a thick fog, and cloud cover. The darkness was so complete that candles were required from noon on. It did not disperse until the middle of the next night.[3][4]

…

Since communications technology of the day was primitive, most people found the darkness to be baffling and inexplicable. Many applied religious interpretations to the event.[8]

In Connecticut, a member of the Governor's council (renamed Connecticut State Senate in 1818), Abraham Davenport, became most famous for his response to his colleagues' fears that it was the Day of Judgment:

I am against adjournment. The day of judgment is either approaching, or it is not. If it is not, there is no cause for an adjournment; if it is, I choose to be found doing my duty. I wish therefore that candles may be brought.[9]
Recommended for reading in full —
David Von Drehle contends 
Now we know what Trump will say when we learn what he's hiding
:
Survivors on the Union side of the bloody battle of Shiloh reported witnessing a striking phenomenon moments before thousands of Rebels came charging through the Tennessee woods at dawn. Fauna in great abundance — rabbits and deer and squirrels and birds — made a startled dash through the Yankee camps. Thus the soldiers knew something alarming was headed their way, even before they knew what it was.

But what struck me like the Shiloh field suddenly teeming with startled wildlife was this language of setups and entrapment because, where I come from, only guilty people trot out the I-was-stung defense. Indeed, the most infamous use of this jargon in Washington — the late Marion Barry's "Bitch set me up!" — followed the mayor's dismayed realization that his crack-smoking had been caught on hidden camera.

How many times have we heard from the president and his defenders that the Mueller investigation is "a witch hunt," that "there's nothing there" and it's time to shut it down? As the inquiry enters its second year, Trump's forces now appear to be falling back to a new trench. Whatever Team Trump did wrong, the FBI tricked them into doing it.
Damian Paletta and Josh Dawsey report
Trump personally pushed postmaster general to double rates on Amazon, other firms
:
President Trump has personally pushed U.S. Postmaster General Megan Brennan to double the rate the Postal Service charges Amazon.com and other firms to ship packages, according to three people familiar with their conversations, a dramatic move that probably would cost these companies billions of dollars.

Brennan has so far resisted Trump's demand, explaining in multiple conversations occurring this year and last that these arrangements are bound by contracts and must be reviewed by a regulatory commission, the three people said. She has told the president that the Amazon relationship is beneficial for the Postal Service and gave him a set of slides that showed the variety of companies, in addition to Amazon, that also partner for deliveries.

Despite these presentations, Trump has continued to level criticism at Amazon. And last month, his critiques culminated in the signing of an executive order mandating a government review of the financially strapped Postal Service that could lead to major changes in the way it charges Amazon and others for package delivery.
(Ignorant and insecure, Trump's a homegrown version of a third-world autocrat, fat and fatuous, making counter-productive demands that inhibit economic productivity.)
Jonathan Vankin reports 
Russian Trolls Instantly Spread Fake News Online About Alleged Santa Fe School Shooter
:
Within minutes of 17-year-old Dimitrios Pagourtzis being named as the school shooter in Santa Fe, Texas, who killed 10 and wounded at least 10 more at a high school there Friday morning, Russian Twitter bots and other right-wing internet trolls began to spread false information about the alleged mass killer — including at least two Facebook profiles that appeared in Pagourtzis' name, portraying the teen as a supporter of 2016 Democratic presidential candidate Hillary Clinton.

The fake Facebook pages showing Pagourtzis wearing a Hillary Clinton baseball cap — an image that had been digitally altered from an an actual image from the teen's now-deleted authentic Facebook profile — also attempted to link him to Antifa, the "anti-fascist" group that frequently stages counter-protests against far-right demonstrators, by including an Antifa logo as the featured image on the fake Facebook page.

"There's also a lot of bot activity on Twitter related to the shooting in Santa Fe, Texas," observed Caroline Orr, an expert on Russian internet propagandaat Virginia Commonwealth University. "Four of the top 10 two-word phrases tweeted by automated accounts over the past 24 hours are related to the school shooting," Orr wrote on her Twitter account shortly after the shooting Friday morning.
See also  Fake Facebook accounts and online lies multiply in hours after Santa Fe school shooting.
Adam Taylor reports
Russia's parliament to consider proposal to allow Putin to run for reelection again in 2024
:
Russia's parliament is expected to consider a constitutional amendment that would allow Russian President Vladimir Putin to run in the 2024 election — a move that could potentially extend his rule until he is 77, if not older.

The proposal would change Russia's constitution so that the president can hold office for three consecutive terms rather than the current limit of two. Putin, who has held high office in Russia since 1999, had previously stepped out of the president's office to become prime minister in 2008 because of term limits.
(Now, a mere trial balloon; later, a true change to make Putin a czar.)
In Japan, people are battling
Invincible 'Super Rats' Genetically Resistant to Poison
:
They don't have this problem on
Aoshima Island
. That happy and rat-free island points toward a solution for all Japan.