Good morning.


Wednesday in Whitewater will see scattered thundershowers with a high of eighty-two. Sunrise is 5:17 AM and sunset 8:29 PM, for 15h 12m 44s of daytime. The moon is a waxing crescent with 5.9% of its visible disk illuminated.
On this day in 1883, William Horlick patents malted milk: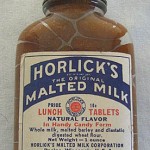 Horlick's product went on to be used as a staple in fountain drinks as well as survival provisions. Malted milk was even included in explorations undertaken by Robert Peary, Roald Amundsen and Richard Byrd.
Recommended for reading in full:
Andy Sullivan reports Promising thousands of US jobs, Foxconn offshored 155 to Mexico:
Foxconn has offshored more than 150 U.S. jobs to Mexico, according to the Labor Department, even as it struggles to meet job-creation targets promised as part of a massive new factory championed by President Donald Trump.

The Taiwan-based electronics maker said in a filing in Indiana in November 2018 that it would lay off 155 workers at a computer factory outside Indianapolis, citing "changes in our business and production objectives."

The Labor Department in February determined that the jobs were eliminated because the company had shifted some production to Mexico, records obtained by Reuters through a Freedom of Information Act request show.

Foxconn officials did not immediately respond to a request for comment. The company told the Indianapolis Business Journal in November that the plant in Plainfield, Indiana, was operated by a subsidiary firm and added that the layoffs would not affect other Foxconn-related companies.

The 155 jobs amount to a small fraction of Foxconn's global workforce, which stood at 988,000 at the end of 2017, according to its corporate responsibility report.

But the company is under the spotlight for having so far failed to meet job-creation targets at another facility in Wisconsin unveiled at a White House ceremony in 2017 and cited by Trump as proof that he was reviving American manufacturing.
(Emphasis added.)
Tory Newmyer reports Manufacturing slips as signs grow of softening Trump economy:
A key measure of U.S. manufacturing strength just slipped to its lowest level in two-and-a-half years, as pressures from President Trump weighed on the sector.

Add that to a pile of recent worrisome signals that the economy is headed for a slowdown, if not an outright recession, just as the 2020 presidential race starts to kick into higher gear. Trump is counting on the so-far rosy economic picture to boost his reelection chances even as warning signs grow that all is not as good as it appears.

Federal Reserve Bank of St. Louis President James Bullard put a finer point on it in a Monday presentation opening the possibility of an interest rate cut later this year to jumpstart stalling growth. The central bank "faces an economy that is expected to grow more slowly going forward, with some risk that the slowdown could be sharper than expected due to ongoing global trade regime uncertainty," he said.
(Emphasis in original.)