Good morning.

Friday in Whitewater will be partly sunny with a high of eighty-two. Sunrise is 5:16 AM and sunset 8:31 PM, for 15h 14m 36s of daytime. The moon is a waxing crescent with 19.9% of its visible disk illuminated.
On this day in 1913, the first climbers ascend Denali: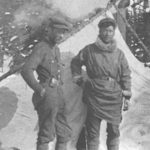 The first ascent of the main summit of Denali came on June 7, 1913, by a party led by Hudson Stuck and Harry Karstens. The first man to reach the summit was Walter Harper, an Alaska Native. Robert Tatum also made the summit. Using the mountain's contemporary name, Tatum later commented, "The view from the top of Mount McKinley is like looking out the windows of Heaven!"[47] They ascended the Muldrow Glacier route pioneered by the earlier expeditions, which is still often climbed today. Stuck confirmed, via binoculars, the presence of a large pole near the North Summit; this report confirmed the Sourdough [expedition] ascent, and today it is widely believed that the Sourdoughs did succeed on the North Summit.
Recommended for reading in full:
Rachel Siegel reports U.S. trade wars with China, Mexico will stunt global trade growth and cost American jobs, analysts say ('The Mexican tariffs alone could cost the United States 406,000 jobs and more than $41 billion in GDP'):
President Trump's increasingly hawkish use of tariffs against China and Mexico could have drastic consequences for global trade and American jobs, according to a pair of new reports.

More than 400,000 U.S. jobs would disappear if Trump follows through on plans to activate escalating tariffs on $350 billion in Mexican imports next week, according to an analysis by the Perryman Group, a Texas-based economic consulting firm. That combined with existing levies against China has put global trade on course for its worst year since the 2009 financial crisis, according to Dutch bank ING. Its analysts forecast that international trade will grow 0.2 percent in 2019, a steep falloff from the 3.3 percent recorded in 2018 and 4.8 percent in 2017.

Much of that slowdown would stem from Trump's ongoing trade war with Beijing. Last month, after negotiations broke down, Trump slapped a 25 percent levy on $250 billion in Chinese goods and began the process of taxing all products from China, which quickly retaliated with tariffs of its own.

Weeks later and angry over migration, Trump threatened tariffs on $350 billion in Mexican goods. That levy is set to kick in Monday at 5 percent and rise incrementally to as much as 25 percent, unless, Trump says, Mexico cracks down on Central American migrants crossing into the United States along their shared border.

Trump routinely misstates how tariffs work, insisting they are absorbed by U.S. trading partners. Tariffs in fact are taxes paid by U.S. companies that bring in products, so those costs are borne by manufacturers, chemical producers and others. U.S. companies typically pass along some of those costs to consumers.