Good morning.

Tuesday in Whitewater will be mostly sunny with a high of eighty-seven.  Sunrise is 5:26 AM and sunset 8:33 PM, for 15h 07m 17s of daytime.  The moon is a waning crescent with 9.3% of its visible disk illuminated.
Today is the six hundred fourth day.
Days since Trump's election, with 11.9.16 as the first day.
Whitewater's Public Works Committee meets at 6 PM.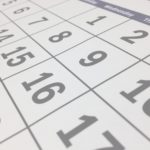 On this day in 1832, construction of Fort Koshkonong begins:
On this date General Henry Atkinson and his troops built Fort Koshkonong after being forced backwards from the bog area of the "trembling lands" in their pursuit of Black Hawk. The Fort, later known as Fort Atkinson, was described by Atkinson as "a stockade work flanked by four block houses for the security of our supplies and the accommodation of the sick." It was also on this date that Atkinson discharged a large number of Volunteers from his army in order to decrease stress on a dwindling food supply and to make his force less cumbersome. One of the dismissed volunteers was future president, Abraham Lincoln, whose horse was stolen in Cold Spring, Wisconsin, and was forced to return to New Salem, Illinois by foot and canoe. [Sources: History Just Ahead: A Guide to Wisconsin's Historical Markers edited by Sarah Davis McBride and Along the Black Hawk Trail by William F. Stark]
Recommended for reading in full — 
  Emily Tamkin reports 
US Republican Delegation Met With Sanctioned Russians In Moscow
("Russian state media portrayed the meetings, coming days before President Trump's planned summit with Putin next week, as good news for Russia"):
In their Moscow meetings with members of Russia's parliament last week, an all-Republican delegation of US members of Congress met with at least two individuals currently sanctioned by the United States.

In a meeting with the Duma, parliament's lower house, Sen. Richard Shelby of Alabama reportedly told Duma speaker Vyacheslav Volodin, "I'm not here today to accuse Russia of this or that or so forth. I'm saying that we should all strive for a better relationship." Volodin has been sanctioned since 2014 for Russia's "illegitimate and unlawful" activities in Ukraine.

In their meeting with the Federation Council, parliament's upper house, the group listened as Foreign Affairs Committee Chair Konstantin Kosachev complained about the latest round of sanctions against Russian individuals. Kosachev was sanctioned in April over alleged meddling in the 2016 US presidential election and "malign activity."

In addition to Shelby, the delegation consisted of Sen. Steve Daines of Montana, Sen. John Hoeven of North Dakota, Sen. Ron Johnson of Wisconsin, Sen. John Kennedy of Louisiana, Sen. Jerry Moran of Kansas, Sen. John Thune of South Dakota, and Rep. Kay Granger of Texas, all of whom voted in favor of the Countering America's Adversaries Through Sanctions Act in the summer of 2017 — the legislation intended in part to make it more difficult for the president to lift sanctions on Russia.
(Emphasis added.  Of course, Russian state media sees the visit of GOP senators as good news for Putin: their willful ignorance of Putin's crimes against others is the supine position Russia expects.)
  Jeremy Shapiro describes Trump's meaningless NATO spending debate:
The European response to Trump's histrionics over spending is nearly irrelevant to how his administration will treat the alliance. In fact, we have already seen a fair degree of effort to respond to Trump's critique. European defense spending is creeping up—27 of 28 members of NATO are now increasing their defense spending, eight will meet the 2 percent target this year, and 16 countries are on track to meet it by the agreed date of 2024.

….
(Putin, himself, could never have hoped for more than Trump, an American who does not want to defend democratic Europe from authoritarian Russia.)
Josh Dawsey, Tom Hamburger and Ashley Parker report 
Giuliani works for foreign clients while serving as Trump's attorney
:
Rudolph W. Giuliani continues to work on behalf of foreign clients both personally and through his namesake security firm while serving as President Trump's personal attorney — an arrangement experts say raises conflict of interest concerns and could run afoul of federal ethics laws.

Giuliani said in recent interviews with The Washington Post that he is working with clients in Brazil and Colombia, among other countries, as well as delivering paid speeches for a controversial Iranian dissident group. He has never registered with the Justice Department on behalf of his overseas clients, asserting it is not necessary because he does not directly lobby the U.S. government and is not charging Trump for his services.

His decision to continue representing foreign entities also departs from standard practice for presidential attorneys, who in the past have generally sought to sever any ties that could create conflicts with their client in the White House.
(This is the standard defense to conflicts of interest from every self-dealing and self-promoting man, nationally, statewide, and locally: it's not a conflict if I don't admit it is, and it's not a conflict because I'm wearing a different hat for each role.  All these hats, of course, sit on the same self-dealing and self-promoting head.)
  Natasha Lennard reports 
A Year Later, the Fascists of Charlottesville Are Back for More — This Time Outside the White House
:
THE "UNITE THE RIGHT" rally in Charlottesville, Virginia, last year ripped away the last shred of plausible deniability about the white supremacist fascism of the so-called alt-right. A neo-Nazi plowed his Dodge Charger into a crowd of anti-fascist counterprotesters, killing 32-year-old Heather Heyer and injuring others. A young black man was beaten bloody by racists with metal poles in a parking lot near a police station. White supremacists marched Klan-like, with burning torches and Nazi salutes, around a Confederate statue of Gen. Robert E. Lee while chanting, "Jews will not replace us!" It was a gruesome pastiche of 19th-century American and 20th-century European race hate, newly emboldened under Donald Trump. The president later declared that there were some "very fine people on both sides" — a remark that winked at the side with swastikas and "Sieg Heils."

The tragic events of that day make it all the more vile that the white nationalist organizer of "Unite the Right," Jason Kessler, is planning an event to mark the deadly demonstration. The approval for the "anniversary" rally outside the White House was granted by the National Park Service. The application offered plans for an estimated 400 demonstrators in Washington's Lafayette Park who would be "protesting civil rights abuse in Charlottesville, Va / white civil rights." Kessler initially applied to hold "Unite the Right 2" in Charlottesville, and is now suing the city because it denied him a permit due to safety concerns. The lawsuit seeks to allow the demonstration to go ahead in Charlottesville, as well as in Washington, D.C., on August 12 — exactly a year after Heyer's brutal death. The false victimhood of Kessler's aims were on full display as news of approval for him to both assemble and speak in Washington came in: He told a local CBS affiliate, "We're not able to peacefully assemble. We're not able to speak."
(They can assemble and speak – they shouldn't be doing so without counterprotests.)
Whatever Happened to the Creator of Calvin and Hobbes?
: