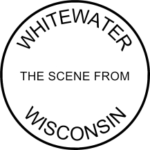 Here in the Midwest, in America's Dairyland, in a small college town surrounded by farms, Trumpism's economic promises, never likely to do a body good, now slowly curdle:
U.S. business groups say hundreds of thousands of American jobs are at stake as newly imposed trade barriers cause an abrupt slowdown of cross-border trade.

The fallout is felt acutely in places like Menomonee Falls, the Milwaukee suburb that American Sewer calls home. On June 1, President Donald Trump imposed a 25 percent tariff on foreign steel and a 10 percent tariff on foreign aluminum — triggering rounds of retaliatory tariffs on made-in-America goods.

….

The U.S. Chamber estimates that $1 billion of Wisconsin exports are threatened by retaliatory tariffs. The estimate is included in a state-by-state analysis of the potential loss of American jobs and exports, posted last week on the U.S. Chamber website.

According to the Tax Foundation, a conservative fiscal watchdog in Washington, D.C., Trump's trade policy already has the potential to pressure average U.S. wages measurably lower — declining 0.3 percent as the effects filter through.

Some 365,000 U.S. jobs will vanish under the existing raft of Trump administration trade restrictions, according to the Tax Foundation's weekly scorecard on the cost of the trade war.
Via Trump's global trade war expected to inflict economic casualties in Wisconsin and across nation.
Look around a city like Whitewater, and although a few of us doing well, there are many more for whom the so-called tools of economic development have been nothing but dumb show.
Credit where credit's due, however: while the talk of WEDC & Foxconn gains in employment will probably prove exaggerated or simply illusory, Trumpism's losses in employment are far more likely to be real.