Good morning.
Sunday in Whitewater: Sunny, eighty-four, with calm winds. Sunrise was 5:29 a.m., and sunset will be 8:32 p.m. The moon is a waxing crescent with 35% of the its visible disk illuminated.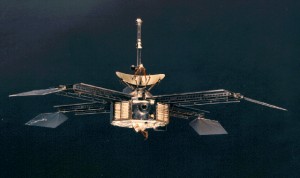 On this day in 1965, Mariner 4 flies past Mars, taking pictures of that planet. The New York Times reported on the flyby:
Pasadena, Calif., July 14 — Mariner 4 completed its rendezvous with Mars this evening and sailed on into space carrying it is hoped, a series of tape-recorded pictures of that mysterious planet.

Instruments aboard the spacecraft indicated that Mars has no significant magnetic field and no appreciable radiation belts. Its lack of a magnetic umbrella has a direct bearing on its habitability.

Life on earth is protected by the shield of this planet's magnetism, which diverts incoming radiation from the sun and exploding stars–radiation that might otherwise be lethal….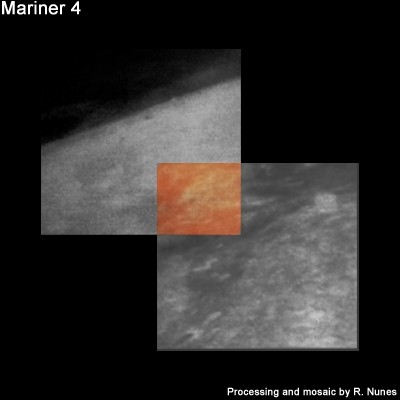 Mosaics from the Mariner 4 mission to Mars (frame 1&2). On the overlapping areas of adjacent frames color was computed, as the images were obtained using a Red/Green – Green/Red filter sequence.
In Wisconsin history on this day in 1948, Janesville turns to DDT:
1948 – Janesville Sprays for Bugs
On this date, intending to create a bug-free environment, Janesville tested a DDT fogging machine that quickly emitted a "smokescreen of insect-killing fog." City officials hoped to persuade the county to buy the machine for use by all municipalities or to buy it jointly with Beloit. [Source: Janesville Gazette]