Good morning.

Tuesday in Whitewater will be partly sunny with a high of eighty-seven. Sunrise is 5:21 AM and sunset 8:36 PM, for 15h 14m 45s of daytime. The moon is a waning gibbous with 77% of its visible disk illuminated.
Today is the five hundred ninety-eighth day.
Days since Trump's election, with 11.9.16 as the first day.
Whitewater's 4th of July festival opens today at 5 PM, with live music beginning at 7 PM.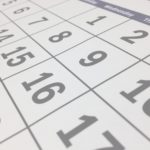 On this day in 1863, the Battle of Gettysburg ends in victory for the Union:
On the third day of battle, fighting resumed on Culp's Hill, and cavalry battles raged to the east and south, but the main event was a dramatic infantry assault by 12,500 Confederates against the center of the Union line on Cemetery Ridge, known as Pickett's Charge. The charge was repulsed by Union rifle and artillery fire, at great loss to the Confederate army.[15]

Lee led his army on a torturous retreat back to Virginia. Between 46,000 and 51,000 soldiers from both armies were casualties in the three-day battle, the most costly in US history.

On November 19, President Lincoln used the dedication ceremony for the Gettysburg National Cemetery to honor the fallen Union soldiers and redefine the purpose of the war in his historic Gettysburg Address.
Recommended for reading in full —
Scott Milfred and Phil Hands contend Trump's meandering Foxconn speech snubs taxpayers:
Milfred and Hands play clips of and comment on the president's speech at the Foxconn site in Racine County. Trump thanked himself and other dignitaries for what's billed as a $10 billion manufacturing campus with 13,000 jobs. What he ignored is the $4.5 billion in corporate welfare that state and local taxpayers will have to shell out.
Former Congressman Reid Ribble writes
Don't blame Harley-Davidson for making a smart business decision
:
Trump campaigned on fixing bad trade agreements. He focused especially on the trade deficit with China. In the past and continuing to this day, China has cheated in the marketplace by dumping products such as paper, steel and solar panels on the U.S. market to drive down prices and put competitors out of business. The president's efforts to persuade China to change its practices are justifiable.

The Harley-Davidson matter is altogether different. It's a self-inflicted wound. Tariffs prompt retaliatory tariffs, and they serve only to tax consumers. The company has been manufacturing motorcycles in the United States for more than a century, and riders around the world understandably want to ride these enjoyable machines. Should Harley-Davidson have waited to see what would result from trade negotiations, hoping tariffs would be abandoned? Not many businesses would. The one thing I know for sure is businesspeople want two things: certainty and low taxes. No one, including Trump, should demonize a company for taking steps to secure its own future.
(Trump's trade war undermines American businesses, and he blames those very businesses' attempts to survive as getting 'cute.' Such are the words of an ignorant autocrat.)
Donald Trump Asked, "What Do You Have to Lose?" This Illinois Town Found Out
("How a small town got caught up in Ben Carson's crusade against fair housing"):
Cairo was the kind of troubled small town Donald Trump purported to champion—bypassed by the modern economy and starving for new investment. And no investment was as critical to its future as housing. Cairo's fate would be one of the first major housing policy decisions of the Trump era, offering a glimpse of which priorities were real and which ones weren't. So when HUD called a meeting in early April 2017, residents of Elmwood and McBride crowded into the pews at the nearby First Missionary Baptist Church, hoping for some good news.

Instead, HUD announced it was condemning the two projects. Residents would need to be out by July 2018, and HUD would give them vouchers for new apartments. The nicer high-rises across town, which had been favored with more attention and resources over the decades, would stay open, and a few residents would move into units there or find other arrangements nearby—but most of the African American families living in the segregated projects would have to leave Cairo. HUD claimed the city of 2,560 was "dying," and that it would be pointless to replace or renovate 80-year-old buildings in a dying city. Such a sentence would be self-fulfilling—boarding up Cairo's public housing would lead to an exodus of people, jobs, and funding.

Faced with the prospect of being scattered across the Midwest, Duncan and his classmates asked their sixth-grade teacher, Mary Beth Goff, whether there was anything they could do. With Ms. Goff's help, they decided to write letters to the man who said their city was dying, the man with the power to make things right.

"Dear Ben Carson…"
(Trumpism answers the question 'what have do you have to lose?' with 'all you have.')
Brian Klaas writes
Trump's big North Korea deal is already turning out to be a sham
:
Do they give out Nobel Peace Prizes for praising and appeasing brutal dictators who threaten nuclear war — without getting anything in return?

President Trump claimed he would use his world-class dealmaking skills to convince North Korea's dictator, Kim Jong Un, to surrender his nuclear weapons. Instead, Trump got played. Kim, who pledged in wishy-washy language to "denuclearize," is now accelerating his nuclear program. The nuclear threat from North Korea — and the risk of a preemptive war launched by Trump — are both growing. Secretary of State Mike Pompeo is heading to North Korea this week hoping to contain the fallout.
Wisconsin,
Who Milks America's Cows?
Buy a pound of cheese or a carton of milk in the U.S., and it most likely hails from Wisconsin, the number-one cheese and number-two milk producer in the country. Often, that Wisconsin dairy product comes from a cow that was milked by an undocumented immigrant.

Nationwide, 51% of dairy workers are immigrants. According to workers, farmers, and industry experts, more than three-fourths of these immigrants are undocumented. As a result, farms with immigrant employees produce the vast majority—79%—of the American milk supply.

Many farmers attribute the dearth of American-born dairy workers to a cultural shift in the way we view the agriculture industry. "When I was growing up, the people that worked on farms were sons and daughters of other farmers," says John Rosenow, a dairy farm owner from Wisconsin, in Jim Cricchi's short documentary, Los Lecheros. Like much of the state's $43 billion-a-year dairy industry, Rosenow's farm now relies heavily on immigrant labor. He laments the fact that today dairy work is "relegated to immigrants" and is seen as being "beneath us."

"Lots of people say that we come to steal jobs from people born here," says Guillermo Ramos Bravo, a Mexican immigrant who manages a dairy farm in Wisconsin, in the film. "In 17 years [working here], I've never seen a person who was born here come and say to my boss, 'I'm looking for a job and I want to milk cows.'"

Cricchi was motivated to turn to Wisconsin for a film idea following the outcome of the 2016 presidential election. "Wisconsin, which hadn't voted for a Republican president since 1984, played a decisive role in electing Donald Trump," Cricchi told The Atlantic, "and I wanted to better understand this shift." With support from the Wisconsin Center for Investigative Journalism, Cricchi directed Los Lecheros, a rare window into the role of undocumented immigrants in the production of America's dairy. Under the Trump administration, the fate of these year-round laborers—and the industry at large—is under threat. Many, including one family featured in the film, have opted to flee the U.S. in fear of ICE raids, which have increased since Trump's election.

"Mass raids would devastate the dairy industry," Cricchi said. "Right now, Wisconsin is losing about 10 dairy farms a week due to collapsed milk prices and labor shortages." A 2015 dairy industry study predicted severe losses should the immigrant labor force be eliminated. 15% of dairy farms would close nationwide, retail milk prices would increase 90%, and over 200,000 people would lose their jobs.