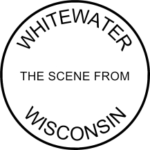 Yesterday's post addressed open government aspects of an unrecorded council meeting. See Public Records Request of 6.26.18 (Open Government). This post will consider a slide presentation from the unrecorded Whitewater Community Development Authority presentation of 6.19.18 on grocery store recruitment. Embedded immediately below is that slide presentation, and a link to the 5.19.16 Perkins supermarket study mentioned in the slide presentation.
[embeddoc url="https://freewhitewater.com/wp-content/uploads/2018/07/Whitewater-Community-Development-Authority-Grocery-Update-061918.pdf" width="100%" download="all" viewer="google"]
Link: Perkins Supermarket Study, May 2016
Remarks:
A Significant Community Concern
. Readers have sent email on all sides of grocery store recruitment, with (often) strong opinions. Although I'm not part of a group within the city organized for a particular result, one needn't be to see that the absence of a grocery concerns many. It's also worth noting that 'community-minded' in Whitewater is sometimes simply a conceit, representing no more than the views of a few people and their like-minded friends. A longstanding policy of distance and detachment, free from cajoling on one side or another of an issue, is a better policy for commentary about the city. One loves a thing most truly only if one sees it clearly, through clear, dry eyes.
The Best Record's a Recording
. There are seven slides to review from the 6.19.18 presentation, but there's no complete record of what CDA Executive Director Dave Carlson said, what he was asked, or how he answered. Even the best, most careful minutes lack the abundant range of information revealed in a video recording.
'Consider constructing a building for a grocery store.'
It's entirely predictable that men from the CDA, as they have over the last thirty years' time, would think that buying something at taxpayer expense would be a good solution to what the city's lacking.:
A bridge to nowhere, an 'Innovation Center' that's a dull office building built on grants for another purpose (now used mostly for public-sector workers), a failed tax incremental district, an unused (now defunct) 'innovation express' bus line, crowing about taxpayer-funded state capitalism at the Wisconsin Economic Development Corporation, an unsound, but twice-proposed digester energy project, and flacking for mediocre & mendacious insiders: that's not a fit legacy for a serious, competent policymaking. (A best business citizen designation from the WEDC is the state's way of saying least-competent grasp of simple economics.)
See The Shallowness of Local Policymaking (and Some Policymakers).
One should ask oneself: If all these prior public projects have brought Whitewater to the lack even of a grocery, then what good have all these prior public projects been?
That's not community development; it's a few appointed residents falsely presuming that they know better despite a decades-long failure. (When someone on the Whitewater Common Council and CDA tells residents that tax-incremental financing has been good for Whitewater, he's either ignorant of simple economics or hoping that his fellow residents are ignorant of actual conditions. See 'Crony Capitalism and Social Engineering: The Case Against Tax-Increment Financing.')
Community Development.
What's true community development? It's
growth, prosperity, and inclusion
. These few at the CDA are like a small version of the WEDC: looking for outside businesses to entice with public money. They don't talk about the free exchange in capital, goods, and labor (free markets in all three) – they talk about what kind of public money they can use to bring to Whitewater outside interests with whom they are comfortable.
The Scattering Effect
. Both the Perkins study (above) and current conditions show that sustaining a grocery in Whitewater will be difficult. Hard indeed: if it were easy, the city would not have lost what she had. A fixation on big projects hasn't uplifted consumer buying power in the city. Some of us are are doing well; we are not representative of the community.
Many residents are struggling, and they've either decided upon the local Walmart or large outside supermarkets (for economy buying) for their shopping. That's not disloyalty to Whitewater; it's an understandable response for many with limited budgets (and also for those who'd like a more upscale experience).
Another Outside Merchant.
If the CDA executive director, chairman, and one of its longstanding members want to look for an outside merchant to bring, they have this question to answer: what will that merchant do that our former grocer – who tried mightily to hang on – did not do? Otherwise, it's '
meet the new grocer, same as the old grocer.'
A few vague promises won't be enough; one will need written, enforceable guarantees.
A Gathering Effect.
Now I know, well, that some residents strongly support the idea of a co-op, and some oppose it just as much. Those who oppose feel it is a concept unlikely to succeed.
Candidly, one can properly say that any concept will have tough going here. It's a weak local economy.
There is this one distinction, however, between the co-op and outside alternatives: only the co-op has a grassroots movement of hundreds of local residents behind it. It's not my movement (as I seek no association like that), but one can see it nonetheless.
Alone of the possibilities that Carlson lists, only one has a local gathering effect, as only the co-op has an existing, homegrown base. Without that gathering effect, without bringing people toward itself, no market will succeed.
One has a guess – just a guess – that the CDA's site-visiting contingent would like something other than a co-op. They simply don't exude a co-op oriented vibe.
In any event, despite doubts about any option making a go of it, still, it seems right that Whitewater's CDA should give every opportunity for the local co-op to prove itself, as it alone has a grassroots movement in place.
This libertarian wouldn't advocate public money for any of these options (and space at the Innovation Center surely seems unnecessary), but if there is regrettably to be a publicly-supported option, that picking and choosing should be a community-wide decision, beyond the choosing of a mere few who sit on the CDA.
The Whitewater Community Development Authority long ago lost credibility on matters of community development.