Good morning.

Thursday in Whitewater will see an occasional thunderstorm, with a high of seventy-five. Sunrise is 5:48 AM and sunset 8:13 PM, for 14h 25m 31s of daytime. The moon is a waning gibbous with 71.7% of its visible disk illuminated.
Today is the six hundred twenty-seventh day.
Days since Trump's election, with 11.9.16 as the first day.
Whitewater's Landmarks Commission is scheduled to meet at 6 PM.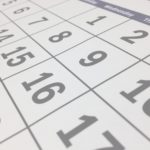 On this day in 1776, delegates to the Second Continental Congress sign the previously-approved Declaration of Independence:
The signing of the United States Declaration of Independence occurred primarily on August 2, 1776 at the Pennsylvania State House, Independence Hall in Philadelphia, Pennsylvania. The 56 delegates to the Second Continental Congress represented the 13 former colonies which had declared themselves the "United States of America," and they endorsed the Declaration of Independence which the Congress had approved on July 4, 1776. The Declaration proclaimed that the former Thirteen Colonies then at war with Great Britain were now a sovereign, independent nation and thus no longer a part of the British Empire. The signers' names are grouped by state, with the exception of President of the Continental Congress John Hancock; the states are arranged geographically from north to south.
Recommended for reading in full —
Ellen Nakashima and Craig Timberg report
As midterm elections approach, a growing concern that the nation is not protected from Russian interference
:
"Twenty-one months after the 2016 election, and only three months before the 2018 elections, Russian-backed operatives continue to infiltrate and manipulate social media to hijack the national conversation and set Americans against each other," Sen. Mark R. Warner (D-Va.) said Wednesday at a hearing of Senate Intelligence Committee, of which he is vice chairman. "They were doing it in 2016; they are still doing it today."

Experts say the lack of forceful administration leadership on the issue — with President Trump at times questioning the conclusions of the U.S. intelligence community about Russia's disinformation and hacking campaign — renders less effective the efforts of agencies to mount a coordinated government action.

"If you can't talk about Russia around the president, I don't see how you get out in front of this, given that they're the ones doing most of the foreign influence," said Clint Watts, a former FBI agent and disinformation expert for the Foreign Policy Research Institute.
(Trump would rather win dishonestly with Russia than lose honestly with America.)
Max Boot explains
Here's why Trump wouldn't have won without Russia
:
See also Without the Russians, Trump wouldn't have won.
Refuting Giuliani and Trump, U.S. Senator Chris Coons explains Here's what the law actually says about 'collusion':
I've been hearing @realDonaldTrump and @RudyGiuliani claiming that 'collusion is not a crime.' Well, I took the liberty of reading the U.S. code myself. Here's what the law actually says: pic.twitter.com/qW2GPxuDdC

— Senator Chris Coons (@ChrisCoons) August 1, 2018
E.J. Dionne Jr.
Trump is working with the trolls
:
In the face of active measures by our adversaries to widen our nation's social gulfs, one might imagine a more responsible leader trying to bring us together, to ease our anxieties about each other and to stand against endless cycles of recrimination.

Instead, Trump is working in tandem with these outside trolls to aggravate resentment, stoke backlash and incite his opponents.

On the very day that Facebook revealed the new influence operation and announced it had deleted 32 pages and accounts connected to it, Trump went to Florida for a rally where he rehearsed some of his favorite incendiary themes.
Brazen Grizzly Bear Attempts To Hunt Down Elk Herd
: