Good morning.

Sunday in Whitewater will be partly sunny, with a high of eighty-nine.  Sunrise is 5:51 AM and sunset 8:10 PM, for 14h 18m 36s of daytime.  The moon is a waning crescent with 41.7% of its visible disk illuminated.
Today is the six hundred thirtieth day.
Days since Trump's election, with 11.9.16 as the first day.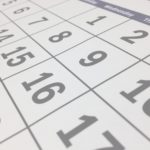 On this day in 1914, an American community installs an electric traffic signal:
An electric traffic light was developed in 1912 by Lester Wire, a policeman in Salt Lake City, Utah, who also used red-green lights.[14] On 5 August 1914, the American Traffic Signal Company installed a traffic signal system on the corner of East 105th Street and Euclid Avenue in Cleveland, Ohio.[6]:27–28[15] It had two colours, red and green, and a buzzer, based on the design of James Hoge, to provide a warning for colour changes. The design by James Hoge[16] allowed police and fire stations to control the signals in case of emergency. The first four-way, three-colour traffic light was created by police officer William Potts in Detroit, Michigan in 1920.[17] Ashville, Ohio claims to be the home of the oldest working traffic light in the United States, used at an intersection of public roads from 1932 to 1982 when it was moved to a local museum.[18][19]
Recommended for reading in full — 
Anna Nemtsova and Philip Obaji Jr. report 
Murdered Russian Journalists In Africa Were Onto Something Dangerous for Putin
("They were on the trail of mercenaries with close ties to the Kremlin in a war-torn country full of diamonds and gold"):
Radchenko, Rastorguyev and Dzhema were focusing their report on the activities of Wagner, a private Russian military firm with links to the Kremlin and to the military intelligence agency known as the GRU. Its involvement in the Central African Republic is believed to have begun in January this year, when Russia began shipping arms to CAR along with five active duty military and 170 civilian instructors, many of whom presumably are ex-Russian military, to train two army battalions. It had won an exemption to a United Nations arms embargo in order to contribute small arms and ammunition to the country's chronically weak military, which needed help to keep very determined rebel groups at bay.

But the Wagner Group is something special. Some have called it Russian President Vladimir Putin's "private army." The organization is led by Dmitry Utkin, who was once a member of the Russian special forces and is currently under U.S. sanctions for aiding Russian-backed separatists in the conflict in eastern Ukraine.

(According to a CNN report, Utkin was once head of security for Yevgeny Prigozhin, a Russian oligarch with close ties to the Kremlin. Prigozhin was one of 13 Russians indicted by Special Counsel Robert Mueller in February for interfering in the 2016 U.S. presidential election campaign. He became famous as a restaurateur, and earned the nickname,"Putin's chef." Russian business outlet RBC reported a year ago that Utkin's name appeared in a corporate database as the general director of one of Prigozhin's companies.)
Mindy Finn writes 
Trump has built a pyramid scheme of public fraud. It's a taxpayer-backed cash grab
:
Even after warnings that tariffs would wreak havoc on the economy, Donald Trump has staked his presidency on a series of trade wars that are now coming home to roost. With economic ruin looming over American farmers — a key constituency — he refuses to change course. Instead, he's mulling a policy of clientelism, a $12 billion cash handout to the victims of his own bad ideas.

It's a surprising development for many, especially the conservatives who have long lamented bailouts and subsidies, but it's hardly out of character. On the contrary, it's a natural fit for a White House that encourages corruption, exploitation and fraud in exchange for loyalty. As with his cabinet officials, he expects that the allure of taxpayer-funded kickbacks will be enough to keep farmers from holding him accountable for his own corruption and failures. It's not an accident, it's a strategy: grease the wheels of government so heavily that they spin in place.

Far from draining the swamp, Trump and his coterie of grifters, fraudsters and co-conspirators have filled it in entirely, dividing the land into personal fiefdoms to exploit.
Tory Newmyer writes Trump tariffs could drive U.S. factories overseas:
President Trump's tariffs threaten to throw his "America First" vision into reverse, prompting manufacturers to ship production and jobs overseas to dodge new trade barriers. 

That's one takeaway from the Institute for Supply Management's July survey, which tracks sentiment among industry executives. It reveals a rising tide of alarm among manufacturers about the direction of the administration's trade offensive — even before the White House announced Wednesday that it is considering hiking proposed tariffs on $200 billion of Chinese imports from 10 percent to 25 percent.

"We're seeing a lot of comments from the respondents about evaluating whether to manufacture something in the U.S. or make it in Canada or make it in Mexico," Timothy Fiore, chairman of the Institute for Supply Management's manufacturing survey, said Wednesday, per Bloomberg News. "If the end market is Europe or China … you're going to want to move it outside the U.S. at this point."
(Emphasis in original.)
Attorney Chuck Rosenberg contends 
There are enough pieces in the public record already for someone to be charged with a conspiracy to coordinate or receive assistance from a hostile power
:
Chuck Rosenberg: There are enough pieces in the public record already for someone to be charged with a conspiracy to coordinate or receive assistance from a hostile power. pic.twitter.com/i3ggW9CrS2

— Maddow Blog (@MaddowBlog) August 1, 2018
In Tokyo, These Trains Jingle All the Way
: