Good morning.

 Monday in Whitewater will be sunny, with a high of seventy-two.  Sunrise is 6:30 AM and sunset 7:12 PM, for 12h 42m 37s of daytime.  The moon is new with 0.9% of its visible disk illuminated.
Today is the six hundred sixty-sixth day.
Days since Trump's election, with 11.9.16 as the first day.
Whitewater's Planning Commission meets at 6:30 PM.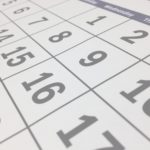 On this day in 1863, Union forces, including 27th and 28th Wisconsin Infantry regiments, win engagements at Bayou Fourche and Little Rock, Arkansas.
Recommended for reading in full — 
Patrick Marley reports 
Scott Walker's ex-DOT secretary says governor isn't telling the truth about roads:
Gov. Scott Walker's former transportation secretary says the GOP governor isn't telling the truth about road projects and is taking a high-risk gamble that could see the state invest billions of dollars in obsolete highways.

Walker has been "increasingly inaccurate" when describing the state's highway system, said Mark Gottlieb, a Republican who was in the Assembly for eight years and served as Walker's transportation secretary from 2011 to 2017.

Gottlieb is the third former top aide to Walker to speak out against the governor in recent months as he faces a re-election challenge from Democrat Tony Evers, the state schools superintendent.

….

Gottlieb said state and federal officials go through a lengthy process to determine when to add lanes to roads to reduce traffic congestion and accidents. The governor contended people may drive less in the future, but Gottlieb noted traffic has been increasing since the country climbed out of the 2008 recession.
Matthew DeFour reports 
Scott Walker took 127 more flights last year than scrutinized New York governor:
Republican Gov. Scott Walker took 65 percent more taxpayer-funded flights last year than the Democratic governor of New York, whose flying was noted in a recent news report for being more frequent than any governor among the 10 most populous states.

….

New York Gov. Andrew Cuomo took 195 trips in taxpayer-funded planes and helicopters in 2017, the New York Times reported Friday. The article noted that while he is entitled by law to fly the fleet, the Democrat's frequent trips this election year have raised questions of whether state aircraft gives him an unfair advantage over his primary opponent, Cynthia Nixon.

Walker, now running for a third term in a tough match-up with Democratic State Superintendent Tony Evers, took 322 flights last year. That was down from the 351 he took in 2016. Only about a dozen over both years were reimbursed by the campaign.
David Leonhardt considers 
The Urgent Question of Trump and Money Laundering
("How Bruce Ohr, President Trump's latest Twitter target, fits a suspicious pattern of [Trump's] behavior on Russia"):
The latest reason to be suspicious is Trump's attacks on a formerly obscure Justice Department official named Bruce Ohr. Trump has repeatedly criticized Ohr and called for him to be fired. Ohr's sin is that he appears to have been marginally involved in inquiries into Trump's Russian links. But Ohr fits a larger pattern. In his highly respected three-decade career in law enforcement, he has specialized in going after Russian organized crime.

It just so happens that most of the once-obscure bureaucrats whom Trump has tried to discredit also are experts in some combination of Russia, organized crime and money laundering.

It's true of Andrew McCabe (the former deputy F.B.I. director whose firing Trump successfully lobbied for), Andrew Weissmann (the only official working for Robert Mueller whom Trump singles out publicly) and others. They are all Trump bogeymen — and all among "the Kremlin's biggest adversaries in the U.S. government," as Natasha Bertrand wrote in The Atlantic. Trump, she explained, seems to be trying to rid the government of experts in Russian organized crime.

I realize that this evidence is only circumstantial and well short of proof. But it's one of many suspicious patterns about Trump and Russia. When you look at them together, it's hard to come away thinking that the most likely explanation is coincidence.
Nate Beck reports 
Mount Pleasant's bond rating downgraded amid millions in Foxconn-related borrowing:
Mount Pleasant's millions in borrowing to support the construction of Foxconn Technology Group's $10 billion factory there have led to a one-notch downgrade in the village's credit rating over fears that the massive factory may not produce the economic benefits officials had promised.
See the sights from
NASA's Curiosity Mars Rover on Vera Rubin Ridge (360 View):