Good morning.

 Sunday in Whitewater will be sunny, with a high of seventy.  Sunrise is 6:29 AM and sunset 7:14 PM, for 12h 45m 27s of daytime.  The moon is new with 0.1% of its visible disk illuminated.
Today is the six hundred sixty-fifth day.
Days since Trump's election, with 11.9.16 as the first day.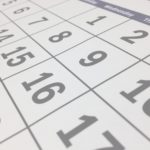 On this day in 1776, the Second Continental Congress official declares the United States the name for the new country:
The Second Continental Congress, meeting in Philadelphia on this day in 1776, declared that the name of the newly formed nation fighting for its independence from Great Britain would be "The United States." This designation replaced the term "United Colonies," then in general use.

….

The National Archives cites the first known use of the formal term "United States of America" as being found in the Declaration of Independence, recognizing Jefferson, its chief author and subsequently the nation's third president, as its originator.

When it was written in June 1776, Jefferson's "rough draught" employed a headline in capital letters that read: "A Declaration by the Representatives of the UNITED STATES OF AMERICA in General Congress assembled." In the final edit, however, that language was changed to read: "The unanimous Declaration of the thirteen united States of America." To archivists, the fact that the phrase "United States of America" appears in both versions of the Declaration offers sufficient evidence to credit Jefferson with having coined the phrase.

Historians have also noted the existence of a resolution prepared by Lee, another Virginian, which was presented to the delegates in Philadelphia on June 7, 1776, and approved on July 2, resolved: "That these United Colonies are, and of right ought to be, free and independent States."
Recommended for reading in full — 
Peter Suderman writes 
Scott Walker's Anthem-Flag Bitmoji Is Republicanism Under Donald Trump
("To understand what has happened to the Republican Party, consider the trajectory of the Wisconsin governor"):
To understand what has happened to the Republican Party under Donald Trump, consider the case of Wisconsin Gov. Scott Walker.

There was a time, not too many years ago, when Walker looked like a plausible, even likely, candidate for the Republican presidential nomination.

Walker, who spent nearly all of his adult life running for and holding office, rose to national prominence after a highly visible showdown with his state's public sector unions. He wrote a book about the experience and toured the country touting his policy record and his state's strong economy in the years after the recession. In many ways, he looked like—or at least played the role of—a serious, governance-focused conservative politician.

….

Among those who have fallen in line is Scott Walker, who spent part of yesterday—the first day of the NFL's regular season—tweeting inane pablum about the kneeling players and asking whether Tony Evers, his Democratic opponent in Wisconsin's gubernatorial race, supports the player protests. (Walker and Evers are currently tied in the polls.) Among those tweets was this heart-on-flannel Bitmoji, which resembles a goofy parody of flag-waving GOP patriotism.

….

Walker's policy record since exiting the presidential race (like his record prior to entering it) is rife with shady local deal making in the name of job creation, including a county-led plan to locate a FoxConn facility in the state using state subsidies and the threat of eminent domain. That effort was backed by none other than President Trump.

Walker is no longer a figure of national significance, nor is his political trajectory all that unusual. His tweets are embarrassing, but not in a way that stands out, particularly when compared to Trump himself.

But Walker's evolution from policy-focused governor to figure of pure political pandering illustrates the overall trajectory of the GOP, which has surrendered itself almost entirely to Trump's hostile takeover. Donald Trump's victory over Scott Walker, and the Republican Party, is all but complete.
Jon Swaine reports
Sheriffs who cheered Trump's attack on press have their own media run-ins
("A group of sheriffs gave the president a troubling ovation after he called journalists 'very, very dishonest'. Here is a taste of local media scrutiny of 10 of them):
A review of coverage produced by regional media outlets over recent years found that many of the sheriffs who cheered the president have come under sharp scrutiny from the press for their own actions – or for those of the officers in their departments.

They have been held accountable by local journalists for incidents including the leaving of a service pistol in a casino bathroom, alleged mistreatment in jails, the wearing of blackface by an officer, and various other actions.

Here, the Guardian has compiled some of the notable reporting on the sheriffs who appeared with Trump:

1. Sheriff Ana Franklin, Morgan county, Alabama

Franklin is under investigation by the FBI and state authorities after a local news blogger, Glenda Lockhart, disclosed last year that the sheriff used $150,000 in public money to invest in a now-bankrupt used car dealership that was part-owned by a convicted fraudster. The money was taken from a fund meant for feeding inmates in the county jail.The sheriff's office recruited Lockhart's grandson as an informant as they attempted to find a source leaking information to the blogger. The grandson said he was paid to install spyware on Lockhart's computer. Franklin's deputies raided Lockhart's home and seized her computer. Franklin was found by a judge to have broken the law.

Lockhart's findings have been built upon by several local reporters, including WAAY-31 television's investigations team and the Decatur Daily. In a statement posted to Facebook in April, Franklin incorrectly described the stories about her as "misinformation, false reports and slander".
(The Guardian lists nine more sheriffs, all in the photo with Trump, who have had clashes with a free press.)
Anne Applebaum writes 
Washington feels like the capital of an occupied country
:
In occupied countries, large public events can spontaneously take on political overtones, too. When the Czech hockey team beat the Soviet Union at the world championships in 1969, one year after the Soviet invasion of the country, half a million people flooded the streets in a celebration that became a show of political defiance. In 1956, 100,000 people came to the reburial of a Hungarian politician who had been murdered following a show trial. The funeral oratory kicked off an anti-communist revolution a few days later.

I am listing all these distant foreign events because at the moment they have strange echoes in Washington. Sen. John McCain's funeral felt like one of those spontaneous political events. As in a dictatorship, people spoke in code: President Trump's name was not mentioned, yet everybody understood that praise for McCain, a symbol of the dying values of the old Republican Party, was also criticism of the authoritarian populist in the White House. As in an occupied country, people spoke of resistance and renewal in the funeral's wake. Since then, public officials have also described, anonymously, new forms of "patriotic treason" within the White House and in comments to Bob Woodward and the New York Times. As in an unlawful state, these American officials say they are quietly working "within the system," in defiance of Trump, for the greater good of the nation.

There can be only one explanation for this kind of behavior: White House officials, and many others in Washington, really do not feel they are living in a fully legal state. True, there is no communist terror; the president's goons will not arrest public officials who testify to Congress; no one will be murdered if they walk out of the White House and start campaigning for impeachment or, more importantly, for the invocation of the 25th Amendment, the procedure to transfer power if a president is mentally or physically unfit to remain in office. Nevertheless, dozens of people clearly don't believe in the legal mechanisms designed to remove a president who is incompetent or corrupt. As the anonymous op-ed writer put it in the New York Times, despite "early whispers within the cabinet of invoking the 25th Amendment," none of the secret patriots "wanted to precipitate a constitutional crisis" and backed off.
Craig Torres and Christopher Condon report 
Larry Summers Calls Fed Bank Stress Test Results 'Absurd':
Former Treasury Secretary Lawrence Summers called the results of the most recent Federal Reserve stress test of the largest banks "comically absurd," and called on regulators to boost capital at financial institutions.

Summers made the comments after a presentation at the Federal Reserve Bank of Boston on the persistence of low interest rates in global economies, a phenomenon which he explained as excess savings pursuing a shortage of investments. That trend has been partially mitigated by fiscal programs, he said, such as Social Security and Medicare in the U.S., which reduce to some extent the propensity to save.

"If we are likely to live in a world of systematically lower interest rates, systematically more higher asset price multiples than we have in the past," then the case "for prudential regulation and for high levels of capital requirements in banks and more financial institutions is greatly increased," Summers said.

Continually low interest rates, a feature of the nine-year-old U.S. expansion where the policy rate is only 1.75 percent to 2 percent currently, can produce asset bubbles.
Behold a
Superpod of Common Dolphins in Monterey Bay:
There are few things more magical in this world than hundreds of dolphins racing through the wild Monterey Bay on a foggy fall morning. For the last week, a superpod of common dolphins hundreds strong has been racing the Monterey Bay, hot on the tails of billions of baitfish. This video was filmed on Labor Day just off of Point Pinos in Pacific Grove, and is being played back at half speed.