Good morning.

 Saturday in Whitewater will be partly sunny, with a high of seventy.  Sunrise is 6:28 AM and sunset 7:16 PM, for 12h 48m 18s of daytime.  The moon is a waning crescent with 2% of its visible disk illuminated.
Today is the six hundred sixty-fourth day.
Days since Trump's election, with 11.9.16 as the first day.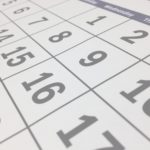 On this day in 1860, the steamship Lady Elgin sinks in Lake Michigan:
On this date the steamship Lady Elgin was lost on Lake Michigan and was one of the lake's most tragic maritime disasters. The ship had been chartered by Milwaukee's Irish Union Guards who had been in Chicago attending a fund raiser in order to purchase weapons to arm their unit. Their ship was struck by an unlit lumber schooner and sank. At least 300 lives were lost, many from Milwaukee's Irish Third Ward community. [Source: History Just Ahead: A Guide to Wisconsin's Historical Markers edited by Sarah Davis McBride, p. 17]
Recommended for reading in full — 
  Patrick Marley reports
Scott Walker administration waited 2 years to alert nursing regulators of teen inmate who almost died:
Gov. Scott Walker's administration waited more than two years to tell the state Board of Nursing about a 14-year-old inmate who nearly died when nurses didn't get him to a doctor for three days, according to state agencies.

Once the complaint was filed in July, the Board of Nursing — which itself is overseen by the Walker administration — waited seven weeks to process it, according to the board. Officials entered the complaint into the board's electronic system on Tuesday, the first business day after the Milwaukee Journal Sentinel published an article about the February 2016 incident.

RELATED: 'Absolute incompetence': Prison nurses didn't get teen at risk of dying to hospital for 3 days in 2016.

Registered nurses at the state's juvenile prison, Lincoln Hills School for Boys, gave the teen Sierra Mist, Gatorade and crackers for days when he was repeatedly vomiting because his appendix was at risk of bursting. A doctor who performed emergency surgery on him at the time called the nurses' actions inexcusable and said they should have known to get him to a doctor three days earlier.

A spokesman for Walker's Department of Corrections wouldn't say why the agency held off seeking the review for 30 months. Likewise, Board of Nursing officials did not explain why the board waited a month and a half to process the complaint.
Jonathan O'Connell reports
GSA chief may have misled Congress about White House involvement in FBI headquarters, according to draft of inspector general report:
The administrator of the General Services Administration, which manages the FBI headquarters project, may have misled Congress about White House involvement in the project, according to a portion of a soon-to-be published report from the agency's inspector general that was obtained by The Washington Post.

Last year the GSA and the FBI scrapped a long-delayed plan to build an FBI headquarters campus in the Washington suburbs in favor of a proposal to build a smaller headquarters in downtown D.C. and relocate some staff to Alabama, Idaho and West Virginia.

President Trump has said he supported the new plan. Although GSA Administrator Emily Murphy, speaking to the House Appropriations Committee in April, mentioned discussions of funding with the White House's Office of Management and Budget, she downplayed the role of the White House in the decision-making process.

The conclusions section of the inspector general's report, which is expected to be released publicly in the coming weeks, states Murphy's testimony "was incomplete and may have left the misleading impression that she had no discussions with the President or senior White House officials about the project."
Michael Carpenter writes 
Russia Is Co-opting Angry Young Men
("Fight clubs, neo-Nazi soccer hooligans, and motorcycle gangs serve as conduits for the Kremlin's influence operations in Western countries"):
On the streets of the French city Marseille, Russian soccer hooligans sporting tattoos with the initials of Russia's military intelligence service, GRU, brutally attacked English soccer fans in June 2016, sending dozens of bloodied fans to the hospital. Alexander Shprygin, an ultranationalist agitator and the head of the All-Russian Union of Supporters (a soccer fan club that he claims was established at the behest of the Russian Federal Security Service, or FSB), was arrested during the melee and deported from France.

It seems almost too strange to be true: fight clubs, neo-Nazi soccer hooligans, and motorcycle gangs serving as conduits for the Kremlin's influence operations in Western countries. It sounds more like an episode of The Americans with a dash of Mad Max and Fight Club mixed in. Yet this is exactly what is happening across Europe and North America as Russia's intelligence services co-opt fringe radicals and angry young men to try to undermine Western democracies from within. And not just in the virtual world, but in real life.
  Mark Potok writes
To Russia With Love: Why Southern U.S. Extremists Are Mad About Vladimir Putin
("The League of the South hates black people, Jews, and lots of other people. But there's one country, and one man, it really, really likes"):
The League of the South, America's leading neo-secessionist group, is a white supremacist organization that describes the Deep South as "White Man's Land." It speaks often of a coming race war, which its leader warns black people will surely lose. It hates Jews. It believes the antebellum South was a rare remnant of true Christianity in a godless world. It denounces egalitarianism as a "fatal heresy." It openly embracesthe Ku Klux Klan and other extremists.

And it really, really likes Russia.

A few weeks ago, the League made that crystal clear with the introduction of a new Russian-language section of its website. In an essay headlined "To Our Russian Friends," League President Michael Hill—a former academic who started out as a relatively moderate Southern nationalist but now urges followers to arm themselves in preparation for civil war—spelled out the reasons why.

….

The politics of contemporary Russia are certainly different than those of the Soviet Union. But it is wildly naïve, not to say densely stupid, for groups like the League to see it as a natural ally. It's true that Russia has cultivated extreme-right links in Europe and the U.S., but it does so in a cynical, opportunistic way.

"American right-wing radicals oppose communism, but modern Russia actively propagates the Soviet past, its symbolism, the cult of the KGB and Stalin," Kseniya Kirillova, a respected Russian journalist living in the U.S. who specializes in analyzing Russian propaganda and influence operations abroad, told me.
Brave Pooches Attend UK's First Surfing School For Dogs: