Good morning.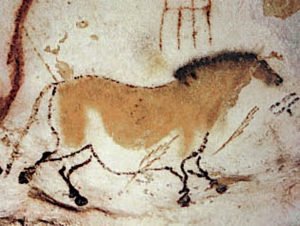 On this day in 1940, Marcel Ravidat discovers the entrance to Lascaux Cave, a cave complex with over 600 drawings from the Upper Paleolithic era. The next day, "he returned to the scene with three friends….The teenagers discovered that the cave walls were covered with depictions of animals."
Recommended for reading in full:
Rick Newman reports Trump's trade war has killed 300,000 jobs:
President Trump says he is "winning big time, against China." But his trade war is causing measurable damage to the U.S. economy, with the pain likely to worsen.

Forecasting firm Moody's Analytics estimates that Trump's trade war with China has already reduced U.S. employment by 300,000 jobs, compared with likely employment levels absent the trade war. That's a combination of jobs eliminated by firms struggling with tariffs and other elements of the trade war, and jobs that would have been created but haven't because of reduced economic activity.

The firm's chief economist, Mark Zandi, told Yahoo Finance that the job toll from the trade war will hit about 450,000 by the end of the year, if there's no change in policy. By the end of 2020, the trade war will have killed 900,000 jobs, on its current course. The hardest-hit sectors are manufacturing, warehousing, distribution and retail.

Other data back up the Moody's Analytics numbers. Employers have created 1.3 million jobs so far this year, down from 1.9 million during the same period in 2018. The manufacturing sector has actually contracted, with many producers struggling with higher prices caused by Trump's tariffs. Business investment is growing by the smallest amount since late 2016.
Dan Spinelli writes Trump's National Security Team Is Now a Wholly Owned Subsidiary of the Defense Industry:
With John Bolton out as national security adviser, the defense industry is poised to receive even more representation in the highest levels of President Donald Trump's foreign policy team. Bolton deputy Charlie Kupperman—a former executive at Boeing and Lockheed Martin—was tapped to fill the job in an acting capacity, giving industry veterans another prominent perch in the administration. Ex-Raytheon lobbyist Mark Esper already serves as Secretary of Defense.

While in office, Trump has become a major booster for American defense contractors. He's urged Vietnamese leaders to buy "the best military equipment in the world by far" from American firms and has even promoted specific companies, such as Lockheed Martin, from the White House's official Twitter feed. When Saudi Arabia, a longtime US ally, drew international condemnation for its role in ordering the death of a Washington Post journalist, Trump appeared to excuse the kingdom's behavior due, in part, to the "record amount of money" it had spent on "military equipment from Boeing, Lockheed Martin, Raytheon and many other great US defense contractors."