Good morning.

Sunday in Whitewater will be mostly sunny, with a high of eighty-four.  Sunrise is 6:36 AM and sunset 7:02 PM, for 12h 25m 25s of daytime.  The moon is a waxing crescent with 45.7% of its visible disk illuminated.
Today is the six hundred seventy-second day.
Days since Trump's election, with 11.9.16 as the first day.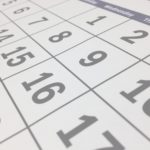 On this day in 1864, Wisconsinites are engaged in Tennessee:
The Wisconsin 13th Infantry participated in an operation against Confederate generals Forrest and Hood in Tennessee.
Recommended for reading in full — 
Ross Douthat comments on Conservatism After Christianity ("A new survey reveals the Republican Party's religious divide"):
One of the many paradoxes of the Trump era is that our unusual president couldn't have been elected, and couldn't survive politically today, without the support of religious conservatives … but at the same time his ascent was intimately connected to the secularization of conservatism, and his style gives us a taste of what to expect from a post-religious right.

The second point was clear during the Republican primaries, when the most reliable churchgoers tended to prefer Ted Cruz but the more secular part of the party was more Trumpist. But it was obscured in the general election, and since, by the fact that evangelical voters especially rallied to Trump and have generally stood by him.

Now, though, a new survey reveals the extent to which a basic religious division still exists within Trump's Republican Party. The churchgoers who ultimately voted for Trump over Clinton still tend to hold different views than his more secular supporters, and the more religious part of the G.O.P. is still the less Trumpist portion — meaning less populist on economics, but also less authoritarian and tribal on race and identity.

The survey was conducted by the Cato Institute's Emily Ekins for the Voter Study Group, who analyzed the views of Trump voters based on their frequency of church attendance — from "never" to "weekly" or more often. The trend was consistent: The more often a Trump voter attended church, the less white-identitarian they appeared, the more they expressed favorable views of racial minorities, and the less they agreed with populist arguments on trade and immigration.
(It's impossible to overstate how important these findings are. It's simply false to contend that increasing secularization necessarily tends toward a progressive position – Trumpism is proof that an increasingly secular core of followers can – and in this case does – lead not leftward but to reactionary and nihilist demands for a herrenvolk. Peter Beinart has written along similar lines. See Breaking Faith: "The culture war over religious morality has faded; in its place is something much worse." A few high-profile evangelical Trumpists mean nothing compared to a far larger, motivated faction of secular rightists. Those who embrace this position – a militant secular racism – have slipped beyond normal acculturation in a democratic society and will prove hard to reach and restore to the wider society. The point isn't that all secularism is necessarily dangerous – the point is that it's a myth to conclude that all secularism is necessarily progressive let alone beneficial.)
Ron Nixon reports 
$10 Million From FEMA Diverted to Pay for Immigration Detention Centers, Document Shows:
The Department of Homeland Security transferred nearly $10 million from the Federal Emergency Management Agency to Immigration and Customs Enforcement, according to a budget document released by a Democratic senator late Tuesday night, diverting funds from the relief agency at the start of the hurricane season that began in June. The release of the document comes as a major storm barrels toward the East Coast.

The document, which was released by the office of Senator Jeff Merkley, of Oregon, shows that the money would come from FEMA's operations and support budget and was transferred into accounts at ICE to pay for detention and removal operations. The document also shows that the Department of Homeland Security transferred money from accounts at Customs and Border Protection that pays for border fencing and technology.

The transfer was a part of more than $200 million the Department of Homeland Security moved from the budgets of other agencies to ICE's detention and removals.
Randall D. Eliason writes 
What Manafort's plea agreement could mean for Trump:
As the White House was quick to point out, the charges to which Manafort pleaded guilty do not directly relate to Trump or his campaign. But cooperation agreements are not limited to cooperation in the same case. Prosecutors would have no reason to seek Manafort's cooperation in connection with the charges listed in his D.C. indictment; Manafort was the primary defendant and his plea largely resolves that case. The existence of the agreement — and the favorable terms offered by prosecutors — suggest Manafort can provide useful information about other aspects of Mueller's investigation.

What's more, prosecutors don't enter into such agreements blindly. The agreements typically are preceded by extensive debriefings that allow prosecutors to see what the witness has to offer and to assess the credibility of the information. Mueller's team apparently found Manafort's information important and credible enough to be worthy of a deal — and a pretty sweet deal at that.

Contrary to some initial reports, there is no carve-out in the cooperation agreement for matters involving the campaign. Those who cooperate with federal prosecutors don't get to pick and choose the subject matter. Either you agree to tell prosecutors everything you know about whatever topics the prosecutors are interested in, or there's no deal. Manafort's agreement requires him to cooperate "in any and all matters as to which the Government deems the cooperation relevant." And if Manafort lies or tries to protect the president (or anyone else), the deal is off, and prosecutors are free to bring back all charges against him.

Trump's lawyer Rudolph W. Giuliani has professed nonchalance about whether Manafort cooperates, claiming the president's team isn't concerned because the president did nothing wrong, and that Manafort is an "honorable man." But despite that bravado, this is grave news for the president.
Gerry Shih reports 
A government institute gave China's biggest celebrity a low 'social responsibility' rating. She hasn't been seen for months:
Fan Bingbing is one of China's biggest celebrities, a ubiquitous actress, model and singer who earned more in 2016 than Hollywood A-listers such as Amy Adams and Charlize Theron, according to Forbes.

But in July, the "X-Men" actress suddenly vanished. And in the weeks since, the mystery surrounding her disappearance from public view has only deepened amid speculation that she ran afoul of Chinese authorities.

The latest clue emerged Tuesday after a state-affiliated think tank and Beijing university ranked Fan dead last in their annual "Social Responsibility Report" — she earned a 0 out of 100 — citing her "negative social impact," among other things.

The report, which was widely covered by state media, didn't shed any more light on Fan's predicament, but it does add to the sense that China's Communist Party is sending a message to the country's burgeoning entertainment industry.
Meet 
The Brothers Revolutionizing Japanese Jazz:
The shamisen is classic Japanese instrument best known for creating the sweet sounds in Kabuki Theatre. With a history dating back centuries, the shamisen has been a pivotal part of many ancient musical genres. But today, in the hands of the Yoshida Brothers, it's getting a modern twist. After picking up the instrument at age five, brothers Ryoichiro and Kenichi fell in love with the quick tempo required to play Tsagaru-jamisen, a Japanese genre of shamisen music. Today, they meld the ancient art and precision of playing shamisen with new, popular sounds, creating their own brand of music and finding fans around the world.