Good morning.

Monday in Whitewater will be sunny, with a high of eighty-eight.  Sunrise is 6:37 AM and sunset 7:00 PM, for 12h 22m 32s of daytime.  The moon is a waxing gibbous with 54.9% of its visible disk illuminated.
Today is the six hundred seventy-third day.
Days since Trump's election, with 11.9.16 as the first day.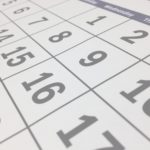 Whitewater's Library Board meets at 6:30 PM.
It's Constitution Day in America. On this day in 1787, the Constitutional Convention takes up a final draft of their work:
From August 6 to September 10, the report of the committee of detail was discussed, section by section and clause by clause. Details were attended to, and further compromises were effected.[31][33] Toward the close of these discussions, on September 8, a "Committee of Style and Arrangement" – Alexander Hamilton (New York), William Samuel Johnson (Connecticut), Rufus King (Massachusetts), James Madison (Virginia), and Gouverneur Morris (Pennsylvania) – was appointed to distill a final draft constitution from the twenty-three approved articles.[33] The final draft, presented to the convention on September 12, contained seven articles, a preamble and a closing endorsement, of which Morris was the primary author.[28] The committee also presented a proposed letter to accompany the constitution when delivered to Congress.[35]

The final document, engrossed by Jacob Shallus,[36] was taken up on Monday, September 17, at the Convention's final session. Several of the delegates were disappointed in the result, a makeshift series of unfortunate compromises. Some delegates left before the ceremony, and three others refused to sign. Of the thirty-nine signers, Benjamin Franklin summed up, addressing the Convention: "There are several parts of this Constitution which I do not at present approve, but I am not sure I shall never approve them." He would accept the Constitution, "because I expect no better and because I am not sure that it is not the best".[37]

The advocates of the Constitution were anxious to obtain unanimous support of all twelve states represented in the Convention. Their accepted formula for the closing endorsement was "Done in Convention, by the unanimous consent of the States present." At the end of the convention, the proposal was agreed to by eleven state delegations and the lone remaining delegate from New York, Alexander Hamilton.[38]
Recommended for reading in full — 
Mark Sommerhauser reports Critics call WisDOT's preferred plan for I-39/90 at Beltline 'brand-new bottleneck':
The department recently told federal highway officials it recommends rebuilding the I-39/90 interchange with the Beltline such that the northbound side narrows, through its core section, to two lanes.
The interchange overhaul, set to be completed in 2022, would be the final phase of a $1.2 billion plan to widen the interstate to three lanes each way from Madison to the Illinois state line.

Overhauling the interchange without expanding to three lanes in both directions — which would be the case north and south of the interchange — would crimp the flow of northbound traffic, causing "significant safety concerns," said Craig Thompson, director of the Transportation Development Association of Wisconsin, a group of business, labor and local governments that advocate for more spending on roads, bridges and transit.

"It would be a monumental waste of taxpayer dollars to build a brand-new bottleneck," Thompson said.

Madison-area officials also lambasted the plan. Mayor Paul Soglin called it "crazy" and said it would cost lives.

"They're creating another pinch point in a heavily congested area," Soglin said. "We've already got a dangerous, inadequate interchange. Now they're going to invest all this taxpayer money in a brand-new, dangerous, inadequate interchange."
Anne Applebaum writes 
Once again, Putin gives us a lesson on the usefulness of the blatant lie:
They were, they declared, just tourists. Alexander Petrov and Ruslan Boshirov — identified by British authorities as the Russian intelligence agents who poisoned four people in the English town of Salisbury — were simply on vacation: "Our friends had been suggesting for some time that we visit this wonderful town."

Sweating, nervous, thuggishly coiffed and wearing similar sweaters, this is what Petrov and Boshirov (not their real names, say the British) told Margarita Simonyan, the editor in chief of the propaganda channel RT (formerly Russia Today): Yes, they are the men in the videos and photographs produced by British police. Yes, they were in Salisbury at the time of the attack on Sergei Skripal, a former Russian spy, and his daughter. But no, they knew nothing of the Skripals or their house. "I wish somebody told us where it was," said Petrov. "Maybe we passed it, or maybe we didn't," said Boshirov.

The two men offered a reason for their visit: "They have a famous cathedral there, Salisbury Cathedral. It's famous throughout Europe and, in fact, throughout the world, I think. It's famous for its 123-meter spire." Inspired, as it were, by the 123-meter spire (a statistic available in the second paragraph of the Salisbury Cathedral Wikipedia page), they went to Salisbury twice. On the first attempt — the British say this was a reconnaissance mission — the two men stayed only an hour and didn't manage to walk the few hundred yards from the train station to the cathedral because of the terrible snow and slush. (Pictures from the day show the streets were clear.) On the second attempt — the day Novichok, a powerful nerve agent, was sprayed on Skripal's front door — they say they made it to the cathedral, even though they were photographed walking in the opposite direction. Their memories of this Gothic masterpiece were not very detailed. "There are lots of tourists," said Boshirov, "lots of Russian tourists."
David E. Sanger reports 
North Korea's Trump-Era Strategy: Keep Making A-Bombs, but Quietly:
For seven years, Kim Jong-un has pursued an in-your-face strategy for building his nuclear arsenal: detonating blasts underground and firing missiles into the sky, all to send the message that his country's nuclear buildup is irreversible.

Now he appears to be changing his approach, current and former American intelligence officials say, tailoring it to his reading of the man he met for a few hours three months ago in Singapore: President Trump.

North Korea is making nuclear fuel and building weapons as actively as ever, the publicly available evidence suggests. But he now appears to be borrowing a page from Israel, Pakistan and India: He is keeping quiet about it, conducting no public nuclear demonstrations and creating no crises, allowing Mr. Trump to portray a denuclearization effort as on track.

Mr. Kim's new forbearance has helped keep a stream of warm words coming from Mr. Trump. A week ago, the president praised Mr. Kim, with whom he says he has forged a special relationship, after the North Korean leader refrained from parading missiles down the streets of Pyongyang during a military celebration.
Alex Horton reports
A woman's daring escape from a Border Patrol agent helped reveal a 'serial killer,' police say:
The woman in the white pickup was feeling increasingly uneasy about the driver, whom she knew only as "David." Two fellow sex workers in Laredo, Tex., had been recently killed, and one of them was her friend Melissa.

The man and the woman had already been at his house, where she had discussed Melissa. He had reacted strangely, she later told authorities, and the situation had grown so tense that she vomited in the front yard before they left for a gas station. The woman's mind lingered on Melissa. She wanted to keep talking about her.

He produced a gun in response, and grabbed hold of her shirt. She managed to jump out of the truck and into the night, her shirt torn from her body. He fled, and she found a state trooper fueling up nearby. She told the trooper where the man lived.

That information led officers to Juan David Ortiz, a supervisory Border Patrol agent. He had been hiding in a hotel parking lot after fleeing from officers and was arrested at 2:30 a.m., according to an affidavit provided to The Washington Post by county prosecutors.

Ortiz, 35, confessed to the two September murders, according to the document.

But he had other confessions to make.

He had killed two more people early Saturday morning in the five hours between the assault on the escaped woman and his capture.Juan David Ortiz, accused in the killing of at least four sex workers in Laredo, Tex., where he is a supervisor with the Border Patrol. (Webb County Sheriff's Office, via AP)

"We consider this man to be a serial killer who was preying on one victim after another," Webb County Sheriff Martin Cuellar said.
This Man Launched a New Internet Service Provider from His Garage
: