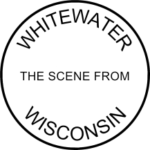 Whitewater's residents may have recently read (3.7.17) another City of Whitewater press release from the Wisconsin Economic Development Corporation (WEDC) – this time concerning more public spending on selected businesses. (For remarks on a prior release, please see The Simplest Condition for a 'Shovel-Ready' Site is an Empty Lot.)
There are few better ways to argue against WEDC's approach than by publishing press releases in full from that organization and its boosters. (I have done so again with the latest release, at the bottom of this post.)
1. A tiny fraction of the award. On its face, there is something sadly desperate in saying Whitewater received only 10.7% of something: of the $700,000 awarded, 89.3% went elsewhere.
2. Tens of millions in public money has poured into Whitewater (state money, federal money, adding into the mix municipal bond debt) over the last decade. Even excluding the vast public sums supporting our local campus, this $75,000 is small compared to prior public spending in the city. If it's 10.7% of the current totals, it's far less than 1% of all that's already come Whitewater's way.
3. Alternative uses. These public funds are meant to be spurs to business development, but far greater sums have produced only paltry results – just about any allocation would be better than still more of the same.
4. 'Technology-based, early stage companies.' All of this is meant to awe and impress, but a level-headed person should be neither awed nor impressed. Public policy is more than a manufactured, unrealistic sense of astonishment.
Butterflies are amazing (truly); public allocations are practical decisions among many alternatives.
The best opportunity for a critic of these spending programs would be for the municipal government to put the full releases on giant billboards around the city. The more one hears of this, the less realistic it is.
Admittedly, we'd not be any richer for a billboard campaign…unless becoming an example of an unsound municipal economic policy somehow, itself, proved lucrative.
WEDC press release follows:
Wisconsin Economic Development Corporation Press Release: Organizations in Milwaukee, Oshkosh, Whitewater to match state's investment in technology-based early-stage companies

MADISON, WI. March 7, 2017 – Three economic development organizations have been awarded a total of $700,000 in matching grants from the Wisconsin Economic Development Corporation (WEDC) to be used to provide seed funding for technology-based startups and early-stage companies.

The Milwaukee Development Corporation has received a $500,000 grant under WEDC's Capital Catalyst Program for the creation of a $1 million seed fund to support companies in advanced manufacturing and other technology sectors. The fund will target seed-stage ventures, including graduates of local accelerator programs such as The BREW, WERCBench Labs, FaBCAP and Gener8tor to provide additional capital for activities leading to investment readiness or revenue generation.

The fund also aims to support growth-focused projects of existing tech companies, as well as other eligible seed-stage businesses with technologies outside the scope of existing area accelerators. The Milwaukee Development Corporation is the operating entity of the Milwaukee 7 economic development organization, which in January received a $60,000 Entrepreneurship Support Grant from WEDC to support its efforts to increase collaboration and develop common strategies to optimize Milwaukee's entrepreneurship climate.

"Finding and filling gaps in funding for these growing companies – especially those in our most promising cluster industries – is critical to the success of individual businesses and the entire Milwaukee 7 Region," said Pat O'Brien, Milwaukee 7 executive director. "We are grateful to WEDC for recognizing this need and providing a needed boost to these efforts."

The Greater Oshkosh Economic Development Corporation has been awarded a $125,000 Capital Catalyst grant to fund a $250,000 program that will provide seed capital to local technology-based businesses likely to scale and grow to benefit the area workforce and economy. The seed fund will focus on sectors including aviation/aerospace, advanced manufacturing, information systems, agriculture/food processing and medical devices.

"This fund is the first of its kind in Winnebago County, the I-41 Corridor and northeastern Wisconsin," said Jason White, CEO of the Greater Oshkosh Economic Development Corporation. "Greater Oshkosh's economic development success is predicated on helping our existing businesses grow and showing our entrepreneurs that they are well-supported here in the Fox Valley."

The Whitewater Community Development Authority has received a $75,000 grant for a seed fund that will provide a diversified portfolio of micro-investments and grants aimed at increasing the number of startups in the city and supporting emerging growth companies.

This marks that the fourth year that WEDC has awarded Capital Catalyst grants to the organization, which has provided capital to 21 technology-based companies to date. Those businesses have successfully raised $4.9 million in additional capital, have achieved over $2.4 million in revenue and employ more than 100 workers.

"I'd like to thank WEDC for this additional investment, which will help ensure that Whitewater continues to be a hotbed of entrepreneurial spirit," said Jeff Knight, chairman of the Whitewater Community Development Authority. "The many startups that this program has already assisted is truly amazing. We've supported many new innovative businesses that would not have had a chance to get started without this very timely help."

"These three organizations are playing a critical role in facilitating the development of high-growth business ventures in their communities," said Aaron Hagar, WEDC's vice president of entrepreneurship and innovation. "The Capital Catalyst Program has a proven track record of results, and we're looking forward to continued success as we collaborate with these organizations to support next-generation companies."

Since its inception in 2012, the Capital Catalyst Program has helped organizations and communities provide $3.5 million in seed funding to more than 100 businesses statewide that employ nearly 500 full-time workers. Those companies have generated $127 million in additional investment and revenue.

The program provides matching grants to seed funds managed by local communities or other organizations dedicated to stimulating entrepreneurship. These funds provide grants, loans and/or investments in startups or early-stage, innovative small businesses that operate in their region. Loan repayments and returns on investment stay within the fund to assist additional startups and create a supportive environment for entrepreneurs.

The Capital Catalyst Program is one component of WEDC's suite of entrepreneurship resources, which includes support for startup accelerators, investor tax credits and technology loans. In addition, WEDC supports and engages an existing statewide network of partners that offers business training, mentorship and financing to aspiring entrepreneurs.

###
About the Wisconsin Economic Development Corporation The Wisconsin Economic Development Corporation (WEDC) leads economic development efforts for the state by advancing and maximizing opportunities in Wisconsin for businesses, communities and people to thrive in a globally competitive environment. Working with more than 600 regional and local partners, WEDC develops and delivers solutions representative of a highly responsive and coordinated economic development network. Visit www.inwisconsin.com or follow WEDC on Twitter @_InWisconsin to learn more.
Via http://www.whitewater-wi.gov/residents/recent-news/3270-wedc-awards-700-000-in-grants-to-support-local-efforts-to-provide-seed-funding-for-startups.