A new year, a new month, and an unexpectedly happy find: that's how the resumption of restaurant reviews starts off.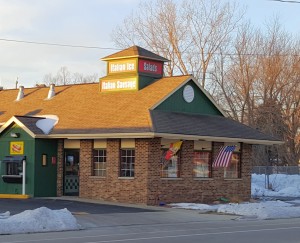 At 535 E. Milwaukee Street in Whitewater one finds Jimmy's, a sandwich shop with a more robust and satisfying menu than one might have expected from driving past. On so many trips along that street, and despite the colorful signs outside listing diverse items, the view through the window always seemed, somehow, to show a sparse interior. In fact, in menu and quality, Jimmy's has much to offer.
Consider some items from the menu: Italian beef (of course), but also sausage, meatball, and tuna fish sandwiches, with hot dogs, or salads. The shop advertises fresh ingredients, and they are, including fresh-cut french fries.
There are for each of these items small, considered variations – sweet peppers, provolone, onions, mozzarella, and the Italian beef sandwiches may be had dry, juicy, or dunked. That's the stuff: someone's though about how the same offering may be changed just slightly to suit different tastes.
Order the ample-portion of beef juicy or dunked, with provolone and peppers, and the fresh-cut fries. You'll need a few napkins or even a paper towel to manage exactly how juicy it all is: simple, fresh, and simply delicious.
The whole shop is an expression of variations: sandwiches one way or another, ice cream one way or another, hot dogs one way or another. Even different days of the week have different specials (Monday for Italian beef, Wednesday for hot dogs, Friday for fries, and students specials with a coupon.) Someone had to think of these options, plan for them, and write them down. A lot of care went into this shop.
The decor is a mix of red, white, and green, in vivid shades, with seven tables (seating four per table), with signs displaying the offerings, and a television to one's left. One can see into the kitchen easily, and there you'll be able to watch fresh ingredients become fresh sandwiches. There's a drive-thru, and although I have not tried it, I saw a patron using it, successfully, on one of my visits.
I love Americana, and a shop like this – although selling signature Italian beef sandwiches – is, of course, much a part of American culture. Nothing at Jimmy's strikes me as an imitation of an Italian sandwich shop; it strikes me a genuine effort to bring a shop like this to life in Whitewater.
Happily recommended.
LOCATION:535. East Milwaukee Street, Whitewater, WI 53190.  (262) 458-5467.
Online:
jimmysclassicitalianbeef.com
https://www.facebook.com/jimmysitalianbeef
OPEN:
Open Seven Days a Week
Dine-in 11 AM – 10 PM
Drive-Thru and Delivery 11 AM to 10 PM or later ('until we are done')
PRICES: Sandwich, soda, drink for about $10.
RESERVATIONS: Unnecessary.
DRINKS: Sodas, Shakes, Italian Ice (called water ice in my childhood).
SOUND: Quiet.  There's a television, but no music on my visits.
SERVICE: Friendly counter service on my visits.
VISITS: Two (lunch, dinner).
RATING: Recommended 3.25 of 4.
RATING SCALE: From one to four stars, representing the full experience of food, atmosphere, service, and pricing.
INDEPENDENCE: This review is delivered without financial or other connection to the establishment or its owner. The dining experience was that of an ordinary patron, without notice to the staff or requests for special consideration.