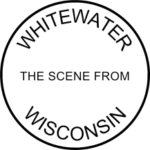 One can be a longtime critic of the Wisconsin Economic Development Corporation, and still learn even worse things about that agency.
With the Foxconn deal pending, WISGOP legislative leaders Vos & Fitzgerald want the WEDC board to be able to see the full text of the Foxconn contract. See Walker Delays Commenting On Possible Change To Foxconn Contract Approval ("GOP Leadership Has Called For WEDC Board To See Full Contract Before Vote").
Of course the WEDC's own board should see the full contract before voting on it. WEDC is a state-established entity, using public money.
One might have thought that Foxconn sought – wrongly, to be sure – to withhold the full contract from WEDC's own board, but this concealment isn't limited to Foxconn.
The truth is far worse, as Wisconsin Public Radio reporter Laurel White reveals:
Typically, the board would vote on a staff memo outlining the contract, instead of seeing the entire document.
(Emphasis added.)
Typically – as in 'conforming with what usually happens'? In all these years, in all these failed WEDC deals, what has usually happened is that the WEDC board has not seen a full contract before voting whether to approve a deal?
These board members are not board members of a major corporation like Apple or Verizon. Not at all – they're overseeing the distribution, in significant measure, of public money from a small Midwestern state. Members of WEDC's board should not be relying on a staff memo, they should be looking more closely and exercising greater scrutiny with public resources. Worthy scrutiny for WEDC requires a review of the full contracts.
Perhaps someone in Whitewater will pass this message along to each town notable who flacked the Wisconsin Economic Development Corporation, or touted awards they'd won from WEDC (e.g., 'best business citizen'):
WEDC was, is, and as constituted will continue to be an embarrassment and disgrace to the reasonable people of this state.