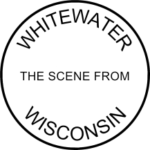 There's an editorial at Royal Purple that contends a future Grocery store should accommodate students.
The editorial makes sound points for pricing outreach to students, but my focus here isn't merely a supermarket or co-op, but the general economic market of Whitewater and nearby, smaller towns (some of which are part of the local school district). So, in the paragraphs that follow, the focus is on economic markets and not particular businesses.
A few key points:
1. The City of Whitewater's not homogeneous – there are several key constituencies in town. Old Whitewater – a state of mind – describes part of the town as the real town. The insatiable desire to wrap the town in a middle-aged-or-older, white package is both futile and inhibiting of future (cooperative) growth.
Over 56% of the residents in Whitewater are between 15 and 24.
https://factfinder.census.gov/bkmk/table/1.0/en/ACS/15_5YR/DP05/1600000US5586925
2. Half's only half as much. One could ignore that 56%, but to do so cuts the size of one's nearby economic market in half. For supermarkets, co-ops, or any number of other general-interest businesses a within-the-city 56% (even a part of it) is astonishingly valuable.
3. A short distance is usually an easier distance. Although a business could try to supplement an older demographic within the city with an older demographic on the other side of the city line (in nearby towns), the farther a business tries to reach from its home area, the closer it will come to competitors defending their home areas.
It's not impossible for a general-interest business to succeed with an older demographic in town combined with an older demographic outside town, but it's sure to be more difficult.
4. Broad-based success within town requires an ability to reach multiple demographics. Thousands of businesses across America – small and large – know how to sell profitably to different consumer groups.
5. If a general-interest business can't or won't sell to multiple demographics in a diverse city like Whitewater, it's an inefficient business. Why use resources to attract people from far away, when with fewer resources one could have customers right in town?
I'm not writing about a co-op, or any specific store, but broadly: those general businesses that ignore 56% or so of the city's economic market may be doing so for cultural or other reasons, but these cultural or other reasons are short-sighted, producing less productive outcomes.
(As for what these cultural or other reasons might be, that's a post for another day.)