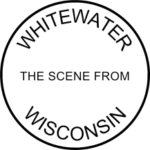 Today's a good day to post about the transition through which Whitewater is now going. It's a winnowing transition, in which many political and economic positions formerly popular are slowly being swept away. (There are, in fact, few leading public officials even from a decade ago still around. Those who are operate in conditions of constraint that would have seemed impossible to imagine ten years earlier.)
1. Whitewater's near-term outlook seems one of stagnation (and so relative decline).
2. Stagnation and relative decline are not unending – they're usually transitional. Local political & economic failures, and the resulting (truly regrettable) economic hardship will make the city's reduced property values attractive to larger-scale, private investment. That's not our best outcome, to be sure, but those who wanted a better outcome would not have chosen as town notables chose a decade ago.
Bumbling boosterism brought us here.
One can be confident that we'll pull out of this, but it may be seven to ten years until we see that kind of change.
3. Big Ticket Public Projects Haven't Stopped Short Term Distress. They've been no more than ornaments to the pride of self-promoting notables. The Bridge to Nowhere, TID 4 spending, Innovation Center, WEDC expenditures, Innovation Express, pricey infrastructure spending over modest improvements: bunk & junk, all of it.
4. Political Boosterism's Almost Finished in Whitewater. It's simply no longer realistic: aged residents' unfounded nostalgia and wishful thinking aren't policies. They're delusions.
5. There Are Still Risks, Even While Notables' Boosterism Wanes. I've mentioned three risks for Whitewater (and like places) in a post entitled The Somber Trio:
Harm inflicted intentionally against immigrants peacefully situated in their communities,

Harm inflicted through overzealousness against other residents (often disadvantaged) but peacefully situated in their communities, and

Unacknowledged harm from sexual assaults against residents on campuses or nearby.
There's a fourth, making this a Somber Quartet:
An unchecked and unchallenged Trumpism.
Public officials who advance Trumpist views, or cater to them as a balancing act between factions, advance or appease a malevolent ideology. They're not owed their catering or balancing. If balancing bad ideas with good was tolerable before, it's not now – the risk is too great to be endured without reply.
6. Charity Endures. For all the political changes sure to come, charity remains a good. Find a good cause, and make it your own.
7. Treading Water Isn't Swimming. Staying afloat isn't the same as truly swimming, just as surviving isn't the same as prospering. One would prefer a community of those who swim & those who prosper, over those who float and merely survive. The goal should be to help people swim, rather than merely boast that a few are good swimmers.
In conditions of stagnation, many officials are treading water more than they're swimming. There is this one truth and consolation, though, about officials who are merely treading water: as they weren't moving competently or productively, their departures are inconsequential when compared with a competent or productive person. In this way, personnel departures matter less; there's hardly a need to see this as troublesome.
8. Better, After. We've some difficult times ahead, nationally and locally, but on the other side of this winnowing transition we'll find a happier and more dynamic country and city.