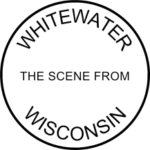 There's a UW System plan to pair some two-year colleges with some four-year universities. Reporting on the plan first broke Tuesday night, and since that evening there's been more information about the proposal (to be considered formally in November, and if adopted to be begun in July 2018).
For the principal Wisconsin stories on the proposal, see UW System will propose merging two- and four-year campuses to cut costs, raise graduation numbers (Journal Sentinel), Merger would keep UW System's two-year campuses afloat despite steep enrollment losses (Journal Sentinel), and University of Wisconsin officials announce plan to merge Colleges with four-year campuses (State Journal).
The proposal would link two-year UW-Rock as a branch, so to speak, of four-year UW-Whitewater (likely sharing the Whitewater name).
At the bottom of this post, I've reproduced the press release from UW-Whitewater's chancellor, Beverly Kopper. (The press release erroneously implies that within the System, all four-year universities will be paired with two-year colleges. That's not correct: some universities will not have college pairings.)
A few quick points:
1. Declining Enrollment. The two-year colleges have experienced significant enrollment declines. Even UW-Rock, doing better than most of the System's two-year schools, has seen a 28% enrollment decline from 2010-2017. (UW-Whitewater, this year, itself saw a decline of about 200 students. They've had steady  growth for several years; this decline may be temporary.)In any case, none of these System schools is booming.
The combination of four-year Whitewater with two-year Rock is like asking a woman with a cold to care for a man with pneumonia.
2. An Arranged Marriage. This is a System-issued policy, and it does not reflect Whitewater's own outreach efforts, no matter how much administrators might try to put a positive cast to their announcement. For years, Whitewater has devoted her efforts to recruiting students from the relatively more affluent Illinois counties of Lake and McHenry. Now, a huge administrative effort will need to be directed to less prosperous Rock County.
It's not as though, on their own, Whitewater administrators haven't known where Rock County is – it's right next door. The plain truth is that on her own UW-Whitewater preferred to look to Illinois rather than Rock County.  UW-Whitewater wanted to date someone dashing; she's now in an arranged marriage with someone dull.
3. Kopper's Problem.  These are System-wide policies. It makes sense that Kopper would want to put the best face on a decision from above. Still, it's hard not to see her problem: she follows one of the worst chancellors any school could have had, and like her currently-serving peers she has less independent authority than chancellors from, let's say, fifteen years ago. Kopper wasn't conscripted, of course: she wanted this (even to the point of offering bizarre praise to flatter Telfer when she was seeking the job).
As it is, past errors and present constraints probably make her position as difficult as any chancellor in the System.
4. A Better Approach. Some of the two-year colleges, with the worst enrollment trends, should have been closed. The rest should have been left on their own, so that they would neither burden nor distract from the traditional four-year universities' respective missions.
Press release from UW-Whitewater follows — 
Dear Campus Community,

Earlier today, University of Wisconsin System President Ray Cross announced a significant proposed change in the structure of the UW System. If approved by the UW System Board of Regents at their November meeting, the University of Wisconsin Colleges will be combined with the four-year universities in their region. It is proposed UW-Rock County will become a part of the UW-Whitewater campus community.

You have my promise that the administration at UW-Whitewater is committed to making this potential transition as seamless as possible. There are many unanswered questions at this point, and as answers become clear we will share them with the campuses. As noted in President Cross' email, the UW System has established a place to ask questions. Here is the link: http://go.uwsa.edu/restructuringfeedback. We will also create a campus website related to the transition for both UW-Whitewater's and UW-Rock County's campus communities to keep up to date on proposed changes.

I am excited about the opportunity this will provide to strengthen our relationship with the people of Rock County, the businesses and community organizations. We look forward to developing new partnerships as well.

We will be scheduling a visit soon to meet with faculty, staff and students at UW-Rock County to begin the process of getting acquainted.

As UW-Whitewater readies itself for a yearlong celebration of our 150th anniversary, we are delighted with the possibility of welcoming the UW-Rock County community to the Warhawk family.

Sincerely,
Beverly Kopper
Chancellor

Contact UW-W News
Department University Marketing and Communications
Date Posted 10/11/2017

https://announcements.uww.edu/Details/13300