Last week, I wrote about the lower number of students who were taking the ACT at Whitewater High School.  Although the scores are higher, fewer students are taking the test.  That's to the credit of students taking the test (and those teaching them), but it's an unfavorable sign for the district.
See, What's Being Done is More than Just a (Sketchy) Number.
The declining local ACT participation rate is even more stark, and disappointing, than I realized last week.  Of the thirteen school districts with a four-year UW System campus, only Whitewater has seen a decline in the ACT participation rate.   (Whitewater's participation decline has been a precipitous one: from 66.2% to just 45.8% over the last five testing years.)
Whitewater also has the lowest participation rate of those thirteen peer districts, and is only one of two with a participation rate under 50%. (The other under-fifty district is Green Bay, and even that district saw an increase in the rate over the last five years, and had a higher rate last year than our district.)
The data are available at the Wisconsin Department of Public Instruction website: WI DPI Dashboard.
All of the other districts with UW System four-year schools have a steady or increasing participation rate over this period, as is also true of the Wisconsin statewide average.
Those UW System schools are Eau Claire, Green Bay, La Crosse, Madison, Milwaukee, Oshkosh, Parkside, Platteville, River Falls, Stevens Point, Stout, Superior, and Whitewater.  They're located, respectively, in Eau Claire, Green Bay, La Crosse, Madison, Milwaukee, Oshkosh, Kenosha, Platteville, River Falls, Stevens Point, Menomonie, Superior, and Whitewater.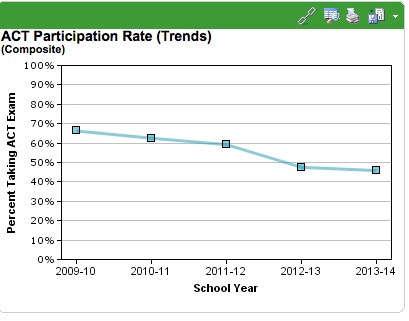 Local participation rates have declined and are
lower than any peer district with a UW System campus.
(I wouldn't have been inclined to look at these thirteen districts, but remarks last night during a school board meeting inspired me to look more deeply at peer communities. As it turns out, looking at those peer communities only strengthens my original argument.)
Our declining participation rate is contrary to the Wisconsin trend and the trend in peer communities.  Whitewater is even more of an outlier – in an unfortunate way – than I had originally realized.  
True success comes when more students rather than fewer are taking the test, and when that greater number is doing better.
In any event, touting the number alone (without careful reflection that learning is more than a number), or considering the number without context (without appreciating the significance of a participation rate) is a shallow view of learning.
Education should be the drive to lifelong learning, and that's more than a marketing slogan, let alone one based on participation rates moving in the wrong direction.
Opportunity should be for the many, not the few.  We can and should do better, to move the participation rate up as the state and peer districts have done.