Good morning.

Wednesday in Whitewater will be mostly cloudy with a high of forty.  Sunrise is 6:37 AM and sunset 4:39 PM, for 10h 01m 33s of daytime.  The moon is new today.
There is scheduled a joint meeting of Whitewater's Common Council, Community Development Authority, and Plan and Architectural Review Commission for 6 PM, and a Police & Fire Commission meeting at 6:30 PM.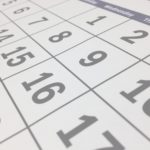 On this day in 1863, the 5th Wisconsin Infantry fights in the Second Battle of Rappahannock Station, Virginia. The battle was a Union victory:
In all, 1,670 Confederates were killed, wounded, or captured in the brief struggle, more than eighty percent of those engaged. Union casualty figures, by contrast, were small: 419 in all.[3]

For the North the battle had been "a complete and glorious victory," an engagement "as short as it was decisive," reflecting "infinite credit upon all concerned."[3] Maj. Gen. Horatio G. Wright noted that it was the first instance in which Union troops had carried a strongly entrenched Confederate position in the first assault. Brig. Gen. Harry Hays claimed to have been attacked by no less than 20,000 to 25,000 Union soldiers—a figure ten times the actual number.[3]

The battle had been as humiliating for the South as it had been glorious for the North. Two of the Confederacy's finest brigades, sheltered behind entrenchments and well supported by artillery, had been routed and captured by an enemy force of equal size. Col. Walter H. Taylor of Lee's staff called it, "the saddest chapter in the history of this army," the result of "miserable, miserable management." An enlisted soldier put it more plainly. "I don't know much about it," he said, "but it seems to be that our army was surprised."[3]
Recommended for reading in full —  Evers wins, a record number of women in Congress, thinking about the national results, Russia's continuing disinformation, and video on what it takes to become an astronaut  — 
 Patrick Marley and Molly Beck write Tony Evers denies Scott Walker a third term as Wisconsin's governor:
MADISON – After upending Wisconsin politics and infuriating liberals across the country, Gov. Scott Walker narrowly lost his bid for a third term Tuesday to Tony Evers, the leader of the education establishment Walker blew up eight years ago.

The Associated Press called the race for Evers about 1:20 a.m. Wednesday based on unofficial returns.

The race was so close that Walker's team said a detailed review of balloting and a recount were possible. But an unofficial tally had Evers winning by 1.1 percentage points — a margin that would be too large for a recount if it held.

"It's time for a change, folks," Evers, the state schools superintendent, told supporters in front of a large Wisconsin flag on the stage of Madison's Orpheum Theater.
(A shorter, more apt, title would have been Evers Wins.)
Danielle Kurtzleben reports A Record Number Of Women Will Serve In Congress (With Potentially More To Come):
After Tuesday's elections, a record number of women will serve in Congress come January 2019.

With results still coming in, 94 women have won or are projected to win their House races as of early Wednesday morning, up from the current 84. In addition, at least 13 women won win Senate seats. That's in addition to the 10 female senators who were not up for re-election this year.

That means at least 117 women will serve in the 116th Congress, up from the current 107. And it will bring the share of Congress members who are women up from the current 20 percent to at least 22 percent.

These new records represent the culmination of a record-setting year for female candidates. In elections for Congress, governorships and state legislatures alike, the number of women who ran outstripped previous years, as did the number of women nominated.

Many first-time candidates this year were inspired to run for office at least in part by the 2016 presidential election — both the fact that the first female major-party nominee ever lost, and that Donald Trump, who is very unpopular among women (particularly Democratic women), won.
 The Washington Post editorial board sees A great day for democracy:
THE DEMOCRATS' return to control over the House of Representatives is much more than a victory for one party. It is a sign of health for American democracy.

Distrustful of untrammeled majorities, the authors of the Constitution favored checks and balances, including, crucially, the check that the legislative branch might place upon the executive. Over the past two years, the Republican majorities in the House and Senate have failed to exercise reasonable oversight. Now the constitutional system has a fresh chance to work as intended.

The Democratic victory is also a sign of political health, to the extent it is a form of pushback against the excesses, rhetorical and in terms of policy, committed by the Trump administration and propounded by President Trump during this fall's campaign. Turning against the dominant party in Washington even in a moment of economic prosperity, voters from Key West to Kansas refused to accept the continued degradation of their nation's political culture. Republicans retained control of the Senate, where the map this year favored their defense. But voters nationwide refused Mr. Trump's invitation to vote on the basis of fear of immigrants; they did not respond to his depiction of his opposition as dangerous enemies.
The Committee to Investigate Russia writes Russian Operatives Still Rampant:
Russian operatives continue to spread disinformation and divisive content online, but as social media platforms, tech companies, and intelligence experts become more aware of foreign interference efforts, Russian agents invent new ways to disguise their work.

….

Experts say foreign actors now are spending more time spreading homegrown divisive content and disinformation rather than creating it from scratch.

"We've done a lot research on fake news and people are getting better at figuring out what it is, so it's become less effective as a tactic," said Priscilla Moriuchi, a former National Security Agency official who is now a threat analyst at the cybersecurity firm Recorded Future threat manager.

Instead, Russian accounts have been amplifying stories and internet "memes" that initially came from the U.S. far left or far right. Such postings seem more authentic, are harder to identify as foreign, and are easier to produce than made-up stories.
What It Takes To Become An Astronaut: