Good morning.


Wednesday in Whitewater will see afternoon thunderstorms with a high of seventy-seven. Sunrise is 5:46 AM and sunset 7:57 PM, for 14h 10m 57s of daytime. The moon is a waning gibbous, with 93.4% of its visible disk illuminated.
Today is the five hundred thirty-eighth day.
Days since Trump's election, with 11.9.16 as the first day.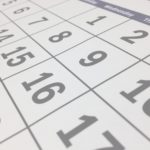 On this day in 1936, Sergei Prokofiev's Peter and the Wolf debuts at a children's concert in the main hall of the Moscow Conservatory with the Moscow Philharmonic on 2 May 1936.
Recommended for reading in full —
➤ Ian Talley reports Treasury Sanctions Amendment Sets Stage for Rusal Exemption:
The Trump administration on Tuesday amended its Russia sanctions program, paving the way for aluminum giant United Co. Rusal to escape from the blacklist and granting the metals market a reprieve from a supply scare that rocked markets over the past month.

Facing delisting from the London Stock Exchange this week, Rusal's owner, EN+ Group, sought the 11th-hour amnesty from the U.S. Treasury late last week by pledging that its majority shareholder and a primary target of the U.S. sanctions, Russian tycoon Oleg Deripaska, would reduce his holdings and relinquish his board seat.

On Tuesday evening, the Treasury granted EN+ Group and several other companies an extension for compliance with the sanctions, buying Rusal's owner time to implement the company's proposed divestment plan.
(A friendly break from the Trump Administration for a well-connected Russian company.)
➤ Laura Sullivan reports How FEMA Failed To Help Victims Of Hurricanes in Puerto Rico Recover:
➤ FRONTLINE also broadcast last night a documentary on Puerto Rico's continuing struggles (about which is embedded a clip below):
(Puerto Ricans are by law American citizens (as so as much Americans as anyone of French or English heritage, for example), but they've not been treated here as Americans should have been treated.)
➤ Jennifer Rubin tackles Six takeaways from the Mueller questions:
First, it's impossible to imagine Trump getting through an interview without contradicting himself or others' whose testimony Mueller already has. Just as Trump's public blather has given Mueller plenty of ammunition, he is bound to make incriminating statements. The questions are too numerous and detailed, and Trump's self-control and attention span so limited, that one can expect him to melt down somewhere between "What did you know about phone calls that Mr. Flynn made with the Russian ambassador, Sergey I. Kislyak, in late December 2016?" and "What did you mean when you told Russian diplomats on May 10, 2017, that firing Mr. [James B.] Comey had taken the pressure off?"

Second, the questions, contrary to Trump's assertions, suggest that collusion is very much on the table. Questions such as "When did you become aware of the Trump Tower meeting?" and "What knowledge did you have of any outreach by your campaign, including by Paul Manafort, to Russia about potential assistance to the campaign?" are designed to probe Trump's awareness of the dozens of interactions between members of the Trump team and Russians during the campaign and transition. Mueller very well might have information from other witnesses that would contradict Trump if he decides to deny knowledge of Russian collaboration. A question such as "What communication did you have with Michael D. Cohen, Felix Sater and others, including foreign nationals, about Russian real estate developments during the campaign?" doesn't come out of nowhere. The prosecutors have documents and a slew of other witness interviews that might give them a picture of Trump's communications. Denying his involvement with others involved in plotting with Russians, in that case, will only serve to put Trump at risk of being charged with lying to the FBI.

Third, reporters, mimicking the White House spin, act as though Trump's testimony is entirely optional. Given how specific the questions are and their obvious relevance to identifiable crimes (obstruction, witness tampering, illegal solicitation of foreign campaign assistance), Mueller would in all likelihood get a subpoena and find a judge to enforce it if Trump refused to testify. Trump would then find himself either in the entirely untenable legal position of refusing to abide by a court order or in the entirely untenable political position of taking the Fifth Amendment. The latter is his constitutional right, but as the chief of the executive branch who took an oath to take care that the laws are faithfully executed, Trump's invoking the Fifth would be an acknowledgment that his personal interests conflict with his oath of office [three additional points follow in Rubin's full post].
➤ Here's What's Up for May 2018: