Good morning.


Wednesday in Whitewater will be sunny with a high of seventy-nine. Sunrise is 5:15 AM and sunset 8:34 PM, for 15h 18m 47s of daytime. The moon is new today.
Today is the five hundred seventy-ninth day.
Days since Trump's election, with 11.9.16 as the first day.
Whitewater's Finance Committee is scheduled to meet at 6:30 PM.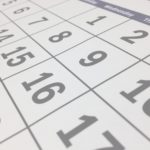 On this day in 1863, the Siege of Vicksburg, Mississippi, continues:
Wisconsin troops were still engaged in the Siege of Vicksburg. The 8th, 11th, 12th, 14th, 15th, 16th, 17th, 18th, 20th, 23rd, 25th,27th, 29th and 33rd Wisconsin Infantry regiments, the 1st, 6th, 7th and 12th Wisconsin Light Artillery batteries and the 2nd Wisconsin Cavalry were among Union forces surrounding the city.
Recommended for reading in full —
Molly Beck reports
Democrats pick up long-held GOP seat, Republicans hold on to another in special elections
:
MADISON – Wisconsin Democrats came one step closer to gaining control of the state Senate by picking up a seat held by Republicans for more than 40 years, while the GOP held on to an Assembly seat in a pair of special elections Tuesday.

Caleb Frostman topped Rep. Andre Jacque in the 1st Senate District and Jon Plumer defeated Ann Groves Lloyd in the 42nd Assembly District.

Frostman will be the first Democrat to represent the northeast Wisconsin district since the 1970s — a win Democrats are hailing as more evidence of a so-called blue wave ready to flip more Republican-held seats in elections later this year.
Mike Allen writes of the
The Trump movie, starring him and Kim
:
President Trump's wooing of Kim Jong-un at the Singapore summit included the iPad showing (in English and Korean) of a "Destiny Pictures" movie trailer, made by the White House's National Security Council, starring themselves saving the world.

There are dunked basketballs, exploding bombs, flourishing labs and cities — all designed to show Kim what's possible if he engages with the West, and to warn him darkly of the alternative.
From the voiceover: "Only the very few will make decisions or take actions that renew their homeland and change the course of history … Two men. Two leaders. One destiny. … A story about a special moment in time when a man is presented with one chance that may never be repeated. What will he choose?"
From Trump's presser: "I showed it to him … toward the end of the meeting. And I think he loved it. … [W]e had it on a cassette … an iPad. … [A]bout eight of their representatives were watching it, and I thought they were fascinated."

….

Be smart … A well-wired Republican tells me: "This is the return of the 70s/80s 'buddy movie' — but one of the buddies is a murderous dictator.
(Trump's video is a political perversity, a paean to himself as much as Kim Jong-un. The truth about North Korea: Atrocities Under Kim Jong-un: Indoctrination, Prison Gulags, Executions and Yeonmi Park's I Escaped North Korea. Here's My Message for President Trump.)
Max Boot describes
A summit without substance
:
Kim won an invaluable propaganda windfall: Ruling one of the poorest and most despotic countries in the world (North Korea's gross domestic product is smaller than Vermont's), he was recognized as an equal by the leader of the world's sole superpower — not just an equal, indeed, but a valued friend. Trump claimed to have established a "special bond" with Kim just a day after one of his aides said there was a "special place in hell" reserved for the prime minister of Canada. (The aide, Peter Navarro, has now admitted his comment was "inappropriate.")

Trump can barely stand to be in the same room with the leaders of the United States' democratic allies, but he reveled in his quality time with Kim – "a very talented" and "very smart" man who "loves his country very much" and who, in turn is loved by his own people. If Kim does indeed love his country, he has a funny way of showing it, since he enslaves his own citizens. If you want to learn more about Kim's atrocities, all you have to do is reread Trump's own Jan. 30 State of the Union address, which gave chapter and verse on the "depraved character of the North Korean regime."

There was, however, scant mention of North Korean human rights abuses on Tuesday. That would have been a downer for a president who has plenty of other downers to deal with — from a special counsel investigation to a botched Group of Seven summit. Trump was in full salesman mode in Singapore, touting a meeting that he claimed had gone "better than anybody could have expected."
There was one bit of substance – a concession from Trump – and the Committee to Investigate Russia asks
Did Trump's Surprise Concession Come from Putin?
:
The following passage appeared in a Wall Street Journal article published in January titled, "Talking to Trump: A How-To Guide:"

He can be persuaded to change his mind……especially if it is tactfully done…

Around the same time, Mr. Trump had an idea about how to counter the nuclear threat posed by North Korea, which he got after speaking to Russian President Vladimir Putin: If the U.S. stopped joint military exercises with the South Koreans, it could help moderate Kim Jong Un's behavior. Defense Secretary Jim Mattis used an approach that aides say can work: "He says, 'Your instincts are absolutely correct,' and then gets him [the president] to do the exact opposite of what his instincts say," said one person close to the White House. Mr. Trump dropped the idea, although he has ordered aides to give the exercises a low profile, eliminating press releases and briefings about them.

After his summit with North Korean dictator Kim Jung Un in Singapore Monday, President Trump declared he was doing exactly what Putin had recommended, catching both South Korea and the Pentagon off guard.

Mr. Trump also announced an end to joint U.S.-South Korea military exercises, a goal long-sought by North Korea. The move surprised many at the Pentagon and in Seoul.

"We will be saving a tremendous amount of money. Plus, I think it's very provocative," Mr Trump mentioned.

Hours after Mr. Trump's announcement in Singapore, American troops in Seoul said they are still moving ahead with a military exercise this fall — Ulchi Freedom Guardian — until they receive guidance otherwise from the chain of command.

Lt. Col. Jennifer Lovett, a United States military spokeswoman in South Korea, said in an email that the American command there "has received no updated guidance on execution or cessation of training exercises — to include this fall's schedule Ulchi Freedom Guardian."

"We will continue with our current military posture until we receive updated guidance from the Department of Defense," she added.

(…)

… Mr. Trump's promise to end joint military exercises with Seoul left many South Koreans stunned. The annual exercises have been an integral part of the alliance, forming the bulwark of South Korea's defense against North Korea and Seoul's sense of security among bigger powers in the region.

(…)

The South Korean Defense Ministry hurriedly issued a curt statement saying that it was trying to figure out Mr. Trump's intentions.

American officials said the military exercises are important because the allies use them to ensure readiness and promote the ability to operate with similar equipment and tactics. On a strategic level, they demonstrate the strength of the decades-long alliance with South Korea.

(…)

The president's statement also confused officials in Washington. While "war games" would be canceled, Vice President Mike Pence assured Republican senators that routine military exercises involving American and South Korean troops would continue, said Senator Cory Gardner, Republican of Colorado.
A deer visits Washington's Metro
:
Seems like *everyone* wants to get aboard the @Capitals train this morning! (Crystal City Station, 8:30 a.m. today — this little guy somehow wandered into the tunnel & ended up at the station. Safely exited through the tunnel back toward DCA.) #OHDEER #ALLCAPS #WMATA #StanleyCup pic.twitter.com/3ibeGuYwUe

— Metro (@wmata) June 12, 2018