Good morning.


Friday in Whitewater will be partly sunny, with a high of eighty-one.  Sunrise is 5:16 AM and sunset 8:31 PM, for 15h 15m 38s of daytime.  The moon is a waning crescent with 32.1% of its visible disk illuminated.
Today is the five hundred seventy-fourth day.
Days since Trump's election, with 11.9.16 as the first day.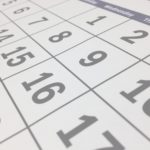 On this day in 1867, Frank Lloyd Wright is born:
On this date Frank Lincoln Wright (he changed his middle name after his parents divorced) was born in Richland Center. An architect, author, and social critic, Wright's artistic genius demonstrated an extraordinary capacity to create architectural space and vocabulary that drew inspiration from both nature and technology.

The son of William Cary Wright, a lawyer and music teacher, and Anna Lloyd Jones, a school teacher, Frank Lloyd Wright's family moved to Madison in 1877 to be near Anna's family in Spring Green.

Wright briefly studied civil engineering at the University of Wisconsin in Madison, after which he moved to Chicago to pursue a career in architecture. Wright started his own firm in 1893 and between 1893 and 1901, 49 buildings designed by Wright were built.

Some notable Frank Lloyd Wright structures in Wisconsin include S.C. Johnson and Son, Inc. Administration Building in Racine, the A.D. German Warehouse in Richland Center, and Taliesin and Hillside in Spring Green. The Monona Terrace Community and Convention Center in Madison was also based on Wright's design. Frank Lloyd Wright died on April 9, 1959, in Phoenix, Arizona. [Source: American National Biography, Vol. 24, 1999, p.15]
Recommended for reading in full —
Emmanuel Macron
observes the truth of national and internal relations
:
No leader is eternal. We inherit commitments which are beyond us. We take them on. That is the life of nations. https://t.co/A72hqtvRYw

— Emmanuel Macron (@EmmanuelMacron) June 7, 2018
Michael D. Shear reports 
Anger Flares as G-7 Heads to Quebec
:
President Trump will skip most of the second day of a summit meeting with allies this weekend, the White House said late Thursday, as he engaged in a contentious war of words over trade on the eve of a gathering that will underscore his isolation from the leaders of the world's largest economies.

Sarah Huckabee Sanders, the White House press secretary, announced that Mr. Trump will leave Canada at 10:30 a.m. Saturday, well before scheduled sessions on climate change, clean energy and oceans. He will attend an early-morning session on "women's empowerment," but he will be gone before any joint statement is issued by the other leaders.

Earlier Thursday, President Emmanuel Macron of France and Prime Minister Justin Trudeau of Canada lashed out at Mr. Trump for imposing tariffs on their steel and aluminum industries. They called it an illegal economic assault on their countries that is unanimously opposed by the other leaders of the Group of 7 who will gather Friday in a sleepy village in Quebec for their annual summit meeting.

"The American President may not mind being isolated, but neither do we mind signing a 6 country agreement if need be," Mr. Macron said Thursday in an especially acerbic tweet. "Because these 6 countries represent values, they represent an economic market which has the weight of history behind it and which is now a true international force."
(Trump routinely torments America's democratic allies and comforts America's dictorial adversaries. He's better suited to the role of Russian foreign minister than American president.)
  Juliet Eilperin, Josh Dawsey, and Brady Dennis report 
Pruitt enlisted security detail in picking up dry cleaning, moisturizing lotion
:
Environmental Protection Agency Administrator Scott Pruitt asked members of his 24/7 security detail to run errands for him on occasion, including picking up his dry cleaning and taking him in search of a favorite moisturizing lotion, according to two individuals familiar with those trips who spoke on the condition of anonymity to talk frankly.

Pruitt, who also has enlisted agency staffers in tasks including apartment hunting and securing a mattress for his personal use, faces congressional scrutiny over an expanding number of spending and management decisions. Federal rules bar public officials from receiving gifts from subordinates, including unpaid services, and from using their office for private gain.

…

While EPA security agents are required to protect Pruitt at all times — while he is working and during his off hours — the two individuals said the administrator had asked members of the detail to perform tasks that go beyond their primary function. In one instance, they said, he directed agents to drive him to multiple locations in search of a particular lotion on offer at Ritz-Carlton hotels.
(The EPA Administrator is on the hunt for "a particular  lotion on offer at Ritz-Carlton hotels"?  YMBFKM.)
Greg Price reports 
Trump's Biggest Complaint is that He Can't Watch Porn At White House, Mika Brzezinski Claims
:
President Donald Trump's "biggest complaint" about living in the White House is that he cannot watch pornography, one of his fiercest cable news critics claimed Thursday.

Mika Brzezinski, who has had public battles with the president over Twitter, returned to MSNBC following her regular spot on Morning Joe to appear with host Stephanie Ruhle. She also spoke with the attorney for Stormy Daniels, Michael Avenatti, to discuss disparaging comments made by one of Trump's personal lawyers, Rudy Giuliani, about Daniels and her line of work.

"The hypocrisy is astounding," Brzezinski said. "Because I know someone who spoke to Donald Trump recently about life in the White House, and Donald Trump's biggest complaint was that he's not allowed to watch porn in the White House. So there you go, there's a little bit of news for you. He's upset that he can't watch porn in the White House."
Ken Bensinger explains How Russian Meddling Gave Us This Year's World Cup:
Over the next few months, Mr. Steele collected a growing pile of intelligence suggesting that Russian government officials and oligarchs close to Mr. Putin had been enlisted to push the effort, cutting shadowy gas deals with other countries in exchange for votes, offering expensive gifts of art to FIFA voters and even dispatching Roman Abramovich, the billionaire who owns the London-based Chelsea Football Club, to South Africa to pressure Sepp Blatter, FIFA's president. (A spokesman for Mr. Abramovich told The Sunday Times that there was nothing "untoward" in his involvement in the Russian bid.)

The retired spy handed his findings to his clients supporting the English bid, who had been swaggering through the campaign with blithe optimism and self-confidence. But in July 2010, five months before FIFA would hold its vote on where to host the 2018 World Cup, Mr. Steele also passed the information on to another party he thought might be interested in learning what Russia was up to: an agent with the Federal Bureau of Investigation.

The F.B.I. didn't much care whether England got the tournament, of course, but the agent, who supervised the F.B.I.'s Eurasian Organized Crime squad, had been looking for opportunities to chase down conspiracies emanating from Russia. After breaking the back of the Russian mob in New York, the squad had set its sights on border-crossing financial crimes involving oligarchs and mafia kingpins. Mr. Steele's intelligence about Russian attempts to corrupt FIFA seemed to check all the boxes.
Cleve R. Wootson Jr. reports 
People at Yellowstone keep getting close to cute elk calves — and getting attacked by their mothers
:
If the elk of Yellowstone National Park had a spokeswoman, she would be working overtime trying to set the record straight about elk-human interactions: Despite the headlines, the average elk has a lot more to fear from the average human.

…

But days at Yellowstone National Park have begun to resemble an episode of "When Animals Attack!"

Twice in three days, cow elk — females of the elk species — have attacked people at the popular national park, using strong legs and sharp hoofs to send unsuspecting humans to the hospital.

The reason for the sudden aggression: babies.  

It is calving season at Yellowstone, and elk mothers are fiercely protective of their newborns, as two women learned too late.
Here's a video from the National Park Service showing elk ramming cars in 2012: