Good morning.

Tuesday in Whitewater will be sunny, with a high of seventy-seven. Sunrise is 6:31 AM and sunset 7:11 PM, for 12h 39m 45s of daytime. The moon is a waxing crescent with 4.7% of its visible disk illuminated.
Today is the six hundred sixty-seventh day.
Days since Trump's election, with 11.9.16 as the first day.
Whitewater's Public Works Committee meets at 6:00 PM.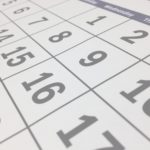 On this day in 2001, Al Qaeda stages deadly coordinated attacks against America, killing thousands of innocent civilians. This morning, when flying from Newark, airline passenger Peter Lattman photographed the new One World Trade Center:
Just took off from Newark, and there's One World Trade Center standing tall above the clouds. pic.twitter.com/SaQv5yD9s5

— Peter Lattman (@peterlattman) September 11, 2018
(Americans are a strong, resilient people.)
Recommended for reading in full —
Brittany Schmidt reports
Where's the money? Target 2 Investigates $46m taken from local road budgets:
Millions of dollars in federal funds are being withheld from local municipalities by the Wisconsin Department of Transportation, Target 2 Investigates has learned.

Both Appleton and Green Bay are losing out on more than $3 million in funds. These municipalities don't know where that money has been diverted.

"Where is the money going? We have no idea," says Steve Grenier,
Green Bay Public Works Director.

Local officials were recently informed about a change in federal funding when it comes to Surface Transportation Block Grants. That's money that Metropolitan Planning Organizations (MPOs) request to complete transportation projects.

Steve Grenier serves as the Vice President of Brown County's MPO Policy Board.

"That's federal money that comes down from Federal Highway Administration, filters through the Wisconsin Department of Transportation and then comes to local programs," Grenier says.

A five-year funding program has been reduced to a four-year program.

MPOs across the state are missing one year of federal funding. It was money they were depending on for upcoming projects.
Hope Kirwan reports
Wisconsin Farmers Feel Impact of Tariffs, Worry About Future Trade
:
Many goods produced by Wisconsin farmers, from milk to livestock, are sold to local buyers. But farmers, like Bob Pronschinske from North Creek, know the prices they receive are directly related to the world market.

"We have to have foreign trade, anybody can figure that out," said Pronschinske, who owns a dairy farm with his son.

Pronschinske said he's worried about the future of exports.

Since President Donald Trump placed new tariffs on steel and aluminum imports in March, trading partners like China and Mexico have placed their own taxes on United States agricultural products. Despite the retaliation, Trump has said the tariff strategy will make trade more fair for United States producers.

Pronschinske said Wisconsin farmers who voted for the president are watching the situation closely.

"If this tariff works, yes, he's going to be a great, great president. If this foreign trade all works out for us, yeah, we'll have prices where they need to be. But the big question is if it's going to work," Pronschinske said.
Josh Lederman, Courtney Kube, Abigail Williams, and Ken Dilanian report
U.S. officials suspect Russia in mystery 'attacks' on diplomats in Cuba, China
("The strong suspicion that Russia was behind the alleged attacks is backed by signals intelligence, meaning intercepted communications, say U.S. officials"):
Intelligence agencies investigating mysterious "attacks" that led to brain injuries in U.S. personnel in Cuba and China consider Russia to be the main suspect, three U.S. officials and two others briefed on the investigation tell NBC News.

The suspicion that Russia is likely behind the alleged attacks is backed up by evidence from communications intercepts, known in the spy world as signals intelligence, amassed during a lengthy and ongoing investigation involving the FBI, the CIA and other U.S. agencies. The officials declined to elaborate on the nature of the intelligence.

The evidence is not yet conclusive enough, however, for the U.S. to formally assign blame to Moscow for incidents that started in late 2016 and have continued in 2018, causing a major rupture in U.S.-Cuba relations.

Since last year, the U.S. military has been working to reverse-engineer the weapon or weapons used to harm the diplomats, according to Trump administration officials, congressional aides and others briefed on the investigation, including by testing various devices on animals. As part of that effort, the U.S. has turned to the Air Force and its directed energy research program at Kirtland Air Force Base in New Mexico, where the military has giant lasers and advanced laboratories to test high-power electromagnetic weapons, including microwaves.
Coral Davenport reports
Trump Administration Wants to Make It Easier to Release Methane Into Air:
The Trump administration, taking its third major step this year to roll back federal efforts to fight climate change, is preparing to make it significantly easier for energy companies to release methane into the atmosphere.

Methane, which is among the most powerful greenhouse gases, routinely leaks from oil and gas wells, and energy companies have long said that the rules requiring them to test for emissions were costly and burdensome.

The Environmental Protection Agency, perhaps as soon as this week, plans to make public a proposal to weaken an Obama-era requirement that companies monitor and repair methane leaks, according to documents reviewed by The New York Times. In a related move, the Interior Department is also expected in coming days to release its final version of a draft rule, proposed in February, that essentially repeals a restriction on the intentional venting and "flaring," or burning, of methane from drilling operations.

The new rules follow two regulatory rollbacks this year that, taken together, represent the foundation of the United States' effort to rein in global warming. In July, the E.P.A. proposed weakening a rule on carbon dioxide pollution from vehicle tailpipes. And in August, the agency proposed replacing the rule on carbon dioxide pollution from coal-fired power plants with a weaker one that would allow far more global-warming emissions to flow unchecked from the nation's smokestacks.
This Gecko Is Clinging for Survival: