Good morning.

Wednesday in Whitewater will be mostly sunny, with a high of eighty-one. Sunrise is 6:32 AM and sunset 7:09 PM, for 12h 36m 54s of daytime. The moon is a waxing crescent with 10.6% of its visible disk illuminated.
Today is the six hundred sixty-eighth day.
Days since Trump's election, with 11.9.16 as the first day.
Whitewater's Community Involvement Commission meets at 5 PM.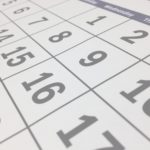 On this day in 1940, teenager Marcel Ravida discovers the Lascaux Cave and the astonishing paintings on the walls within:
Lascaux….is the setting of a complex of caves near the village of Montignac, in the department of Dordogne in southwestern France. Over 600 parietal wall paintings cover the interior walls and ceilings of the cave. The paintings represent primarily large animals, typical local and contemporary fauna that correspond with the fossil record of the Upper Paleolithic time. The drawings are the combined effort of many generations, and with continued debate, the age of the paintings is estimated at around 17,000 years (early Magdalenian).[3][4][5] Lascaux was inducted into the UNESCO World Heritage Sites list in 1979, as element of the Prehistoric Sites and Decorated Caves of the Vézère Valley.[6]

On September 12, 1940, the entrance to the Lascaux Cave was discovered by 18-year-old Marcel Ravidat. Ravidat (died in 1995) returned to the scene with three friends, Jacques Marsal, Georges Agnel, and Simon Coencas, and entered the cave via a long shaft. The teenagers discovered that the cave walls were covered with depictions of animals.[7][8] Galleries that suggest continuity, context or simply represent a cavern were given names. Those include the Hall of the Bulls, the Passageway, the Shaft, the Nave, the Apse, and the Chamber of Felines. The cave complex was opened to the public on July 14, 1948.[9] By 1955, carbon dioxide, heat, humidity, and other contaminants produced by 1,200 visitors per day had visibly damaged the paintings. As air condition deteriorated fungi and lichen increasingly infested the walls. Consequently, the cave was closed to the public in 1963, the paintings were restored to their original state and a monitoring system on a daily basis was introduced.

Lascaux II, an exact copy of the Great Hall of the Bulls and the Painted Gallery opened in 1983 in the cave's vicinity, a compromise and attempt to present an impression of the paintings' scale and composition for the public without harming the originals.[8] A full range of Lascaux's parietal art is presented a few kilometres from the site at the Centre of Prehistoric Art, Le Parc du Thot, where there are also live animals representing ice-age fauna.[10]
Recommended for reading in full —
Steven Elbow reports
Madison-area manufacturers starting to feel the bite from tariffs:
The owner of Qual Line Fence in Waunakee, a company [Ray] Statz founded in 1956, said he and about 16 employees put in about 500 fences a year made with steel, aluminum and cedar, all products that have seen steep cost increases stemming from U.S. tariffs.

"Wood, steel and aluminum," he said. "They're all hit."

He estimates that since the beginning of the year, he has seen the cost of the materials he uses climb between 25 and 30 percent. That's not enough to cause any layoffs, he said, but the trade dispute adds uncertainty to the market.

"It makes me lose some sleep at night," Statz said. "It makes it difficult. We're supposed to take a gamble and wonder what the future's going to be by next spring. It's not the good old days."

President Donald Trump announced the tariffs in March — 25 percent on foreign steel and 10 percent on aluminum — and by the time they took effect on June 1, prices were already spiking. A year earlier the administration slapped tariffs on Canadian lumber, which combined with other factors pushed the price to record highs.
Patty Murray reports
DNR Reports Manure Spill On Oneida Reservation
("300K Gallons Of Contaminated Water Spilled Into Creek In Northeastern Wisconsin"):
Three-hundred-thousand gallons of manure-contaminated water spilled into a creek in northeastern Wisconsin.

The spill is believed to have happened late Sunday after a week of heavy rains, combined with a faulty valve at the Phil Roberts farm, which is home to 220 head of cattle. According to the state Department of Natural Resources, a containment pit overflowed into Silver Creek — a tributary of the larger Duck Creek.

The manure went down a grassy slope into Silver Creek near the Outagamie and Brown county line, within the Oneida Nation of Wisconsin's boundaries.

James Snitgen, water resources supervisor for the tribe, said, "because of the recent heavy rains there was way more water makeup in that, so I wouldn't necessarily call it 'manure,' I'd call it a manure-water mixture going down."
Stephanie Ruhle writes of
federal deficits and political ignorance:
This matters
This should matter
This definitely used to matter to Republicans
Except the party is now being led by the self-proclaimed KING OF DEBT
Therefore
It is to be expected
This no longer matters https://t.co/2Rb1PA0g9G

— Stephanie Ruhle (@SRuhle) September 12, 2018
Conservative evangelical Michael Gerson contends
Christians are suffering from complete spiritual blindness:
Since the Council of Nicaea, Christians have been prone to issue joint statements designed to draw the boundaries of orthodoxy — and cast their rivals beyond them. Another one, not quite in the same league, was recently issued by a group including John MacArthur, a prominent (and very conservative) evangelical pastor and Bible teacher.

"The Statement on Social Justice and the Gospel" claims that social justice is not, in fact, a definitional component of the gospel, and that it is heresy to elevate "non-essentials to the status of essentials." As you might expect, the document affirms traditional beliefs on same-sex relationships and "God-ordained" gender roles. But it seems particularly focused on rejecting collective blame in racial matters. "We deny that .?.?. any person is morally culpable for another person's sin," the statement argues. "We further deny that one's ethnicity establishes any necessary connection to any particular sin."

….

The purpose of "The Statement on Social Justice and the Gospel" is clear enough. It is, as one prominent evangelical leader put it to me, "to stop any kind of real repentance for past social injustice, to make space for those who are indeed ethnonationalists, and to give excuse for those who feel Christians need only 'preach the gospel' to save souls and not love their neighbors sacrificially whether they believe as we do or not."

The MacArthur statement is designed to support not a gospel truth but a social myth. The United States, the myth goes, used to have systematic discrimination, but that ended with the Civil Rights Act of 1964. Racism is now purely an individual issue, for which the good people should not be blamed. This narrative has nothing to do with true religion. It has everything to do with ignorant self-satisfaction.

It is neither realistic nor fair to ignore the continuing social effects of hundreds of years of state-sponsored oppression, cruelty and stolen wages. It is neither realistic nor fair to ignore the current damage of mass incarceration and failed educational institutions on minority groups. Prejudice and institutional evil are ongoing — deeply ingrained in social practice and ratified by indifference. Repentance is in order — along with a passion for social justice that is inseparable from the Christian gospel.
(Trumpism threatens more even than the political order; it perverts Christian theology to a political end that is both dangerous and, fundamentally, heretical.)
Rachel Becker and William Poor report that
These domesticated foxes were 60 years in the making:
Scientists are uncovering new clues to the origins of domestication in an unlikely creature: foxes. After nearly 60 years of selective breeding in Siberia, there are a few rare foxes that are pretty unafraid of people. So, of course, we wanted to meet them.

The story goes back to 1959, when geneticist Dmitri Belyaev set out to try domestication from the very beginning. He had this idea that was radical for its time: domesticated animals like dogs are friendly because of genes that govern their behavior. Meaning, the process that turned wolves into dogs thousands and thousands of years ago was essentially evolution.

So Belyaev began selectively breeding foxes: the ones that weren't as aggressive or afraid of people were allowed to have offspring. After Belyaev's death in 1985, geneticist Lyudmila Trut — co-author of How to tame a fox (and build a dog) — took over. Over time, the foxes became more dog-like: they're not skittish around people, though they might not climb into your lap for a cuddle, either.
(Domesticated is a flexible description: it seems unlikely that these foxes are domesticated sufficiently to make safe, reliable pets. Beautiful, of course, but beauty is not gentleness. In any event, cats make great pets…)