Good morning.


Friday in Whitewater will be cloudy with a high of 51. Sunrise is 7:18 AM and sunset 6:00 PM for 10h 42m 15s of daytime. The moon is a waning gibbous with 96.7% of its visible disk illuminated.
On this day in 1707, four British naval vessels run aground on the Isles of Scilly because of faulty navigation. In response, the first Longitude Act is enacted in 1714.
---
Whitewater has two beautiful lakes, Cravath and Trippe, and they have become overgrown with vegetation, so the local government has at last set about to drain those lakes, and dredge to remove invasive plants, in the hope of restoring those bodies of water to their proper condition. Restoring the lakes is to the benefit of the community. What was the goal, here? Surely to improve the natural beauty of the city. That is generally (and in this case particularly) a worthy goal.
As part of this project, even before dredging, the City of Whitewater hit upon a plan to dump large amounts of artificial herbicides into Cravath & Trippe to kill plants that had grown there while the project dragged on.
It was, needless to say, a ludicrous plan: the lakes drain into a creek that runs through the city and toward nearby cities.
Here is a photo of the water pouring out of Cravath into Whitewater Creek: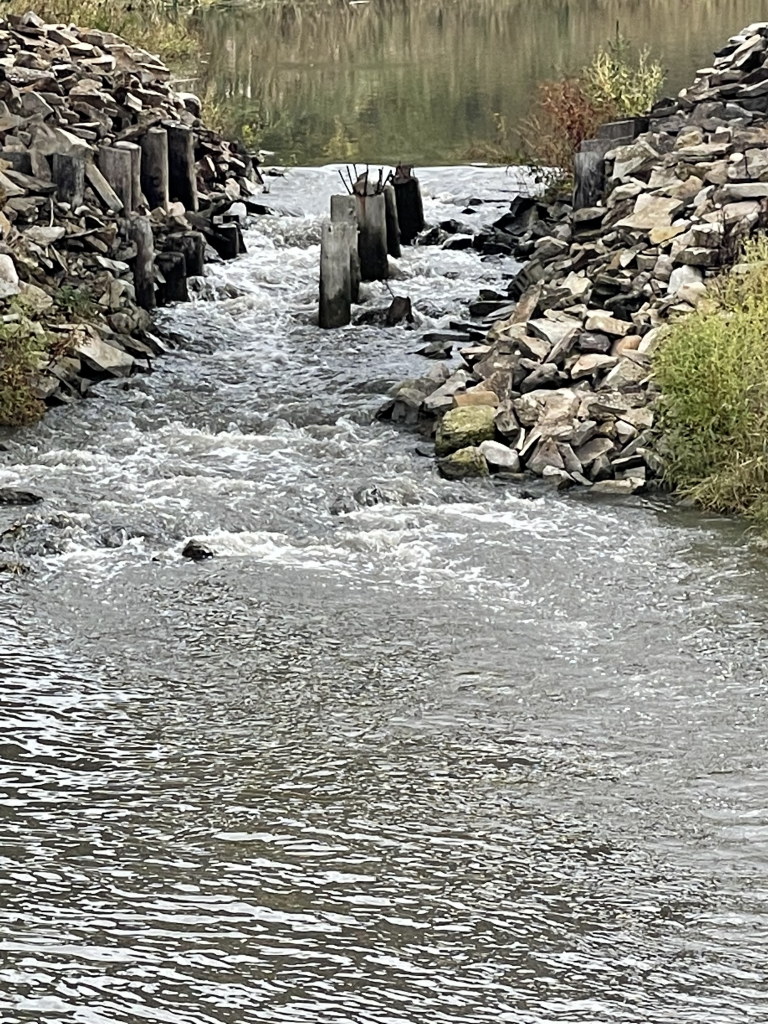 As early as June 2021, in an unrecorded Parks & Recreation meeting, officials broached their plan to dump herbicide into the lakes. See Minutes of the 6.9.21 City of Whitewater Parks & Recreation Meeting (highlighting mine).
And yet, and yet, when city officials discussed the restoration plan on camera in August 2021, the only part of the plan mentioned was dredging — not the use of artificial herbicides:
A letter to a few residents was not — and could not be — adequate. This was a matter for all the city, and for nearby communities, too. One form of notice was, by the way, a legal notice in the Whitewater Register.
(I saw that notice, but to expect most residents to look for information in the Register is something like expecting them to look for information at the bottom of a coal mine. That notice from 9.16.21, NOTICE FOR APPLICATION OF AQUATIC PLANT MANAGEMENT PERMIT, appeared in a tiny font, with nothing in the title about herbicides, and only promised a public meeting if "five or more individuals, organizations, special units of government, or local units of government request one." Many residents had no idea about possible herbicide application at that time. It's hard even to find the notice on the full newspaper page — it's at the very bottom, buried among other notices and stories.)
Of course, there were those who knew better and more.
Fortunately, a nearby publication, Fort Atkinson Online, began solid and useful reporting on the city's herbicide-dumping plan.
City government found itself in a position where a more candid and recorded public discussion (as a consequence of reporting on the planned use of herbicides and also expectations from state government) became necessary:
And so — now — the City of Whitewater has sensibly abandoned the large-scale dumping of herbicides into Cravath and Trippe (relevant discussion from the 10.19.21 meeting below, beginning at 3:30):
(Contending that this change had nothing to do with a wider awareness of the original herbicide plan is false, and preposterously so.)
Solid reporting on the original plan shows a positive example of cause and effect, from wider public awareness to a new plan. There are better ways to restore these lakes than dumping large amounts of herbicide.
What local government kept in the shadows, reporting brought to light.
For it all, Whitewater now has a better restoration plan.