Good morning.


Sunday in Whitewater will be rainy with a high of 51.  Sunrise is 7:20 AM and sunset 5:57 PM for 10h 36m 49s of daytime.  The moon is a waning gibbous with 86.5% of its visible disk illuminated.
 On this day in 1946, a camera on board the V-2 No. 13 rocket [from White Sands Missile Range in White Sands, New Mexico] takes the first photograph of Earth from outer space.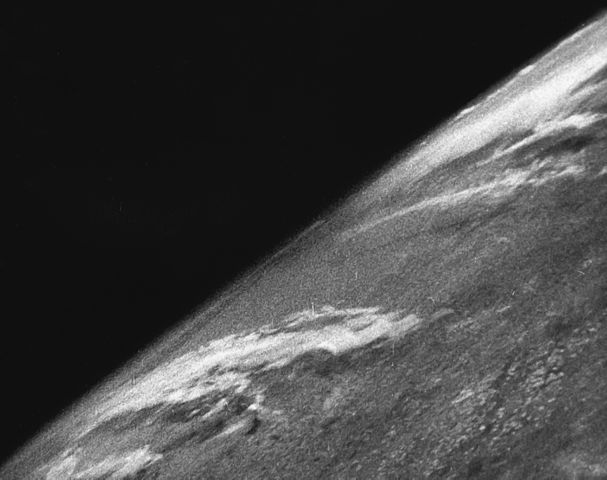 ---
Marina Lopes reports Otters are taking over Singapore:
SINGAPORE — Standing on a manhole ­cover in downtown Singapore, dodging double-decker buses and motorcycles, Marjorie Chong sniffs the air and listens for squeaks. "Do you hear that?" she asks.

Chong is searching for otters.

Pollution and deforestation drove away Singapore's otter population in the 1970s. But as the country cleaned up its waters and reforested land in recent years, otters came back in full force, integrating into urban spaces and learning to navigate one of the world's most cosmopolitan cities.

Today, to the annoyance of some and the joy of others, the island is home to more than 10 otter romps, or families.

In the Marina Bay area, known for architecturally audacious ­hotels and for one-bedroom apartments that sell for $1.8 million, otters bop in the water and the crunch of fish bones echoes along the boardwalk. Using drainpipes as highways, the carnivorous mammals traverse the city, sometimes popping up in rush-hour traffic, or racing through university campuses.

Otters pushed out of the local rivers and bays by rival families dig homes between buildings. They visit hospital lobbies and condominium pools, hunting for koi fish and drinking from fountains. New families fight for access to food and shelter, in battles that are covered by the local papers and dissected online.

….

Last year, after a string of otter attacks on koi ponds, one critic wrote a letter to the Straits Times newspaper to call for the animals to be shot with rubber bullets. The demand proved divisive, and even Prime Minister Lee Hsien Loong, who encountered a family of otters frolicking in the yard of the president's official residence, took a stand. Singaporeans "must find ways to coexist and thrive with our local flora and fauna," he wrote in a Facebook post.

For otter experts, the critics are missing the point. Higher fencing and sturdier gates are a small price to pay to keep the otters out of areas where they are not welcome.

Singapore's otters are the envy of researchers around the world, who sometimes work for years without seeing an otter in the wild. They are also testament to Singapore's reforestation and ­anti-pollution efforts.
While there have been rare otter attacks in Alaska (River otter attacks baffle authorities in Anchorage, Alaska), satirized here at FREE WHITEWATER (in Killer Otters and Toilet Rats), these animals are almost always harmless to humans. (A people that was truly afraid of otters would be among the most timid, and pathetic, of peoples on the planet. We Americans are, by contrast, a robust nation.)
Singapore is a place with fewer liberties than America, but even their leaders can see that they "must find ways to coexist and thrive with our local flora and fauna."
Here in Whitewater, Wisconsin — a place of abundant natural beauty — one might have assumed her local government had a proper appreciation of flora, fauna, and residents.
Sadly not.  Dumping large amounts of artificial herbicide into lakes in the middle of town that feed into a creek through and beyond the town was a plan (1) ludicrous, (2) lazy, and (3) unnecessary to the restoration of Whitewater's lakes.
And so, and so… it fell to others, in and outside the city, to address what local government ignored, to make clear what officials kept clouded.
---