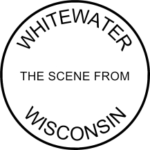 Foxconn has been much touted in Whitewater, with the local business lobby bringing in a longtime political operative to flack the project at a local restaurant. One now reads that Foxconn is devouring funds needed for communities' road repairs:
A new road project serving the $10 billion Foxconn plant in Racine County could reduce funding for other state roads by as much as $90 million in the current budget, according to the Legislative Fiscal Bureau.

The reduction leaves state highway rehabilitation funding as much as $870 million short of the $2.4 billion per biennium the Department of Transportation estimates is needed to maintain road conditions at current levels for the next decade.
Via  Funding for state roads down as much as $90 million due to Foxconn project.
See also The Man Behind the Foxconn Project, 10 Key Articles About Foxconn, and Foxconn Deal Even Worse Than Most State Capitalism.