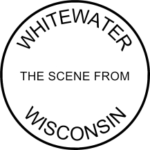 Lauly Li, Cheng Ting-Fang, and Gen Nakamura report Foxconn opts to make smaller displays at Wisconsin plant:
OSAKA/TAIPEI — Hon Hai Precision Industry, better known as Foxconn Technology Group, is considering producing small to midsized displays for Apple, automakers and others at its $10 billion factory planned for the U.S. state of Wisconsin, people familiar with the matter said.

Foxconn's shift to making diversified displays for cars, personal computers, tablets, mobile devices, televisions and niche products represents a change from its previous plan to churn out large panels, mainly for TVs, at the new plant. Production of large panels would have required a more complete local supply chain and greater initial investment in equipment.
Not so high-tech after all:
"Previously, Foxconn planned to build a 10.5th-generation display manufacturing factory, which is more suitable for large-sized displays," supply chain sources told Nikkei.

"But later they figured out that it might be more feasible and efficient to build a sixth-generation display plant or an 8.5th-generation factory from which they could move some equipment from Asia."

Sixth-generation panel plants mainly turn out smaller screens for mobile phones, tablets, notebooks and wearable devices, while 8.5th-generation factories are optimal for making displays for tablets, notebooks, monitors and TVs. Both could make some niche products for medical or automotive use.
Whitewater's local business league invited a state operative to tout this multi-billion-dollar, taxpayer-subsidized project only about three months ago, and already Foxconn is scaling the technology level back.  See  A Sham News Story on Foxconn.  (Such is the risk of press releases as policy – speculative claims don't have a great shelf life.)
Someone will now have to ask the Daily Union's Welch to type up a fresh set of ludicrous claims from a political operative about the project.
(By the way, credit to Joe, commenting here @ FREE WHITEWATER, for remarking on the technological limitations the plant faces well before today's Nikkei Asian Review story.)
Previously: 10 Key Articles About Foxconn, Foxconn as Alchemy: Magic Multipliers,  Foxconn Destroys Single-Family Homes, Foxconn Devours Tens of Millions from State's Road Repair Budget, and The Man Behind the Foxconn Project, A Sham News Story on Foxconn, Another Pig at the Trough, and Even Foxconn's Projections Show a Vulnerable (Replaceable) Workforce.