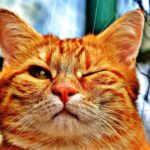 Maddy Shaw Roberts, at classicfm, writes that Mozart apparently liked to imitate cats. Here's the tail as we know it: 
This lovely little anecdote has been floating around since the 19th century. Karoline von Greiner Pichler, an Austrian novelist and former student of Mozart, describes her teacher in her 1843 memoirs, quoted in Otto Deutsch's Mozart: A Documentary Biography.

"One day when I was sitting at the pianoforte playing the 'Non più andrai' from [The Marriage of] Figaro, Mozart, who was paying a visit to us, came up behind me.

"I must have been playing it to his satisfaction, for he hummed the melody as I played and beat the time on my shoulders; but then he suddenly moved a chair up, sat down, told me to carry on playing the bass, and began to improvise such wonderfully beautiful variations that everyone listened to the tones of the German Orpheus with bated breath," Pichler is quoted by Deutsch.

And here's where it comes…

Pichler's account continues: "But then he suddenly tired of it, jumped up, and, in the mad mood which so often came over him, he began to leap over tables and chairs, miaow like a cat, and turn somersaults like an unruly boy."
If, by chance, there's anyone in Whitewater who meows like this, then he or she is in fine company.