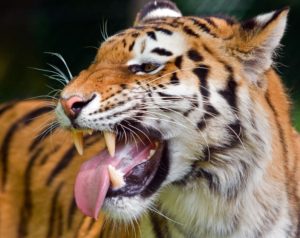 Hannah Sparks reports that Big cats prefer the warm, spicy scent of Calvin Klein's Obsession cologne:
What drives the felines wild? The intoxicating aroma of Calvin Klein's Obsession, according to zookeepers in the UK.

A recent shortage of perfumes, which help to soothe the sometimes aggressive animals, has lead the Banham Zoo in Norfolk, England, to make a public plea for donations of scented sprays. Zoo managers say their lions, tigers and leopards "respond very positively to unique scents when sprayed in their enclosures."

And while just about any fragrance will tickle their whiskers, the big cats of Banham have a particular preference for Obsession: "For some reason Calvin Klein perfume is a huge hit with all the big cats," animal manager Mike Woolham told the BBC.