Embed from Getty Images
An anti-immigration position is for economics something like a flat-earth position would be for natural science: one may hold it only through either ignorance or disorder. (The ignorance would have to be profound, as even the weakest grasp of economics would incline a rational person to acknowledge the benefits of a free, transnational labor market; the disorder would have to be grave, as only obstinacy or prejudice would long resist a reasoned explanation.)
In this free, commercial republic, there are still some who are merely ignorant on immigration, but one has reason to believe that Trump pushes his line to fill empty vessels not merely with weak economics but with strong prejudices.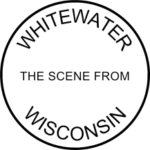 There are officials both in and outside the city who would bring Arizona-style 'show us your papers' laws to Wisconsin. They are wrong on economics, wrong on liberty, but at least they have this going for them: each and every one of these politicians (or the out-of-area mouthpieces on whom they rely) is an easily-identifiable troll for either ignorance or lumpen prejudices.
A quick note to the local officials of the city, school district, and university who are in the habit of inviting these anti-immigration politicians to public events: you debase the American tradition, and turn away from sound reasoning and thorough study, when you bring these few to your events. No supposed political necessity will justify their presence. One cannot profess a worthy education proudly and honestly while simultaneously offering a platform to the ignorant or biased.
Just a bit of light reading in this regard —
Heather Long, It's a 'grave mistake' for Trump to cut legal immigration in half:
President Trump endorsed a steep cut in legal immigration on Wednesday. Economists say that's a "grave mistake."

A Washington Post survey of 18 economists in July found that 89 percent believe it's a terrible idea for Trump to curb immigration to the United States. Experts overwhelmingly predict it would slow growth — the exact opposite of what Trump wants to do with "MAGAnomics."

"Restricting immigration will only condemn us to chronically low rates of economic growth," said Bernard Baumohl, chief global economist at the Economic Outlook Group. "It also increases the risk of a recession"….
Jeremy Robbins, Trump says the proposed immigration bill will raise wages for Americans. It won't.:
But while moving to a merit-based immigration system, Cotton and Perdue also propose reducing the number of legal immigrants admitted into the United States every year by half — from about 1 million to about 500,000. They argue that having fewer immigrants will leave more jobs available for American workers.

But the economy simply doesn't work that way.

Economists who study immigration overwhelmingly agree that immigration is an economic boon to our country. Indeed, nearly 1,500 Republican, Democratic and independent economists — including six Nobel laureates — recently released a letter stressing the "near universal agreement" among economists of all stripes on "the broad economic benefit that immigrants to this country bring."

To that consensus, Cotton responds: "Only an intellectual could believe something so stupid." He instead points to Canada and Australia as models for limited legal immigration. However, while it's true that Canada and Australia admit far more high-skilled immigrants, they also admit more family-based immigrants. In fact, on a per capita basis, they admit 2.4?and 3.5 times as many immigrants, respectively, as the United States does….
Jennifer Rubin, A crass play to xenophobes will go nowhere:
Because the bill went nowhere in April and will not make it onto the Senate calendar for the rest of the year, it's an obvious, typical play to Donald Trump's base, once more using immigrants as scapegoats and distractions. ("Trump's appearance with the senators came as the White House moved to elevate immigration back to the political forefront after the president suffered a major defeat when the Senate narrowly rejected his push to repeal the Affordable Care Act," The Post reported. "The president made a speech last Friday on Long Island in which he pushed Congress to devote more resources to fighting illegal immigration, including transnational gangs.")

When introduced in April the bill was roundly criticized by more than 1,000 economists. There is near-uniformity among respected economists that immigrants do not "steal" jobs from native-born Americans (in part because they have different skill sets and in part because they make the economy bigger), have almost no impact on domestic wages (except for non-high school graduates, where the impact is less than 2 percent) and are essential to keep the economy growing. By reducing the number of immigrants by a half a million, the bill would shrink the U.S. economy and exacerbate the problem of an aging workforce (immigrants statistically are younger than the native-born population).

Nevertheless, for anti-immigrant groups who often insist they oppose only illegal immigration, it's a revealing moment. They cheer the idea that we should take fewer hard-working, pro-American immigrants through legal avenues. (Trump, by the way, continues to hire substantial numbers of foreign workers at his resort in Florida.) No, the anti-immigrant forces simply want to keep people unlike themselves out of the United States. Their economic arguments are tired, wrong and a pretext for xenophobia.

The notion that immigration restriction raises wages has been disproved by past experience. (Canceling the 1960s Bracero program, akin to the Cotton-Perdue plan for lowering immigrant numbers, had "little measurable effect on wages.") A slew of conservative think tankers and former officials condemn immigration restrictionism as rotten for the U.S. economy. The plan was swiftly criticized by Democrats, pro-immigration activists and economically literate Republicans. Trump's promise of 3 percent annual growth was far-fetched; with a proposed reduction of 500,000 people, it becomes impossible.
This is a confidence game from Trump: the bill is for suckers who think Trump will actually get something passed, and it wouldn't lift wages as promised even if it should pass.