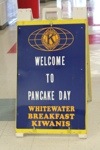 My youngest and I went to Sunday's Kiwanis Pancake Breakfast at the high school.  We had a great time. 
Light, perfectly-prepared pancakes, the very size of a pan, with link sausages, syrup, butter, and one's choice of coffee, juice, or water.  For a small price, one could order extra sausage, too, as we did. 
Once seated, we received the care and attention of countless volunteers, each making sure that we had all that we needed, that our drinks were replenished, and when we were finished removing our plates for us.  Row upon row of tables, and everyone attending receiving exemplary care.
A faraway monarch couldn't have for himself conditions half so warm, so congenial, at any price. Better here than anywhere else, better this way of life than another.  
There we sat, and he happily and slowly ate his meal, leaning against me in the comfortable way that one's small child will sometimes do.  One side resting against me, his free arm reaching lazily for another portion on the plate.  Nothing behind, and nothing ahead.
A beautiful Sunday meal.   
One writes and contends for this town, for its political future, as an expression of obligation and commitment and concern.  And yet, and yet – the most important moments in one's life are not political, could not be political, and should not be political.   
We'll be back again, of course, next time – we're planning on it.